Product Information
With two large ovens, grill and a spacious induction hob you can utilise the variety of functions to create a variety of dishes that will be cooked to perfection. Finished in sleek, glossy cream and making the creation of a family feast effortless, accomplished foodies and style conscious homemakers will be in their element with the TR93 Victoria range cooker.
Dimensions: H89.5 x W90 x D56.5cm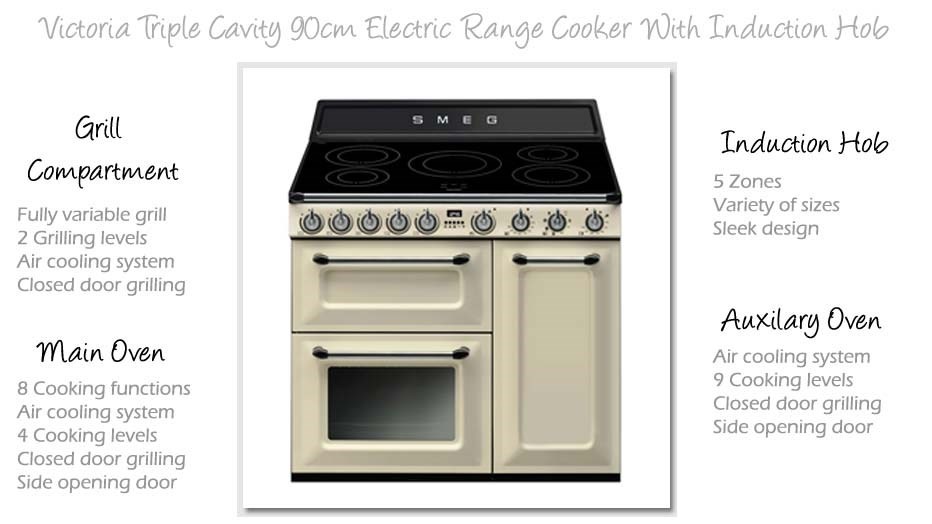 Quality robust design
Designed to the highest quality inside and out featuring evocative lines, chrome handles and controls alongside a smooth glossy finish the TR93BL range cooker is a solid, versatile and reliable cooker you can depend on with leading edge technology and low energy consumption.
Spacious hob
Featuring 5 induction zones in a variety of sizes with a stylish design you have space to cook up a storm whether your using a large wok, frying pan or small sauce pan there's a zone designed to deliver the correct heat for what you have cooking.
Zone power:
Front right: 1.3 kW
Rear right: 2.3 kW
Centre: 2.3 kW
Rear left: 2.3 kW
Front left: 1.3 kW
Flexibility with a choice of ovens
With a choice of ovens to prepare your master pieces in this Victoria range cooker is highly flexible. The oven doors are triple glazed to lock in that precious heat, maintaining temperature and delivering even cooking.
Grill to perfection with the 36L closed door grill, featuring telescopic guides for stable and safe access. The main oven has a capacity of 63L with 4 cooking levels including a chrome shelf and an extra deep 40mm tray. The tall auxiliary oven is highly impressive, boasting of flexibility with a capacity of 66L alongside 9 cooking levels with 4 chrome shelves and a plate rack. You can stack and cook multiple dishes at once, roast a joint, cook your veg and bake a pudding all at the same time as well as warming up your plates with the convenient plate rack at the base of the oven.
A function for everything
With 9 cooking functions to choose from you are able to select a function perfectly suited for each dish. Choose from a variety of functions such as Circulaire element with fan, conventional top and bottom heating, turbo (combining fan and conventional oven cooking), defrost, grill with or without fan assistance and pizza stone function. Utilise the fully programmable timer to never over cook a meal again.
Easy clean
When the cooking's finished and it's time to clean the oven don't despair! The interior of the range cooker has been coated with black enamel and each oven has a roof lining making cleaning simple.
Features:
Main oven capacity 63L
Auxilary oven capacity 66L
Grill capacity 36L
Glossy cream
8 Cooking functions
Digital clock/programmer
Air cooling system
Easy clean enamel interior
Induction hob with 5 zones
Vapour clean function
Nominal power: 8.5 kW
Power supply required: dedicated cooker circuit fused at 40/45 amp