The perfect balance of intuition, performance and design
Whirlpool's stylish appliances are designed to deliver superior results in the most efficient way, using innovative 6TH SENSE technology to do all the thinking for you. By continuously sensing, adapting and controlling your appliance, 6TH SENSE ensures uncompromising results with minimal effort and resource use.
Whirlpool Laundry
Supreme Care for your clothes
Enjoy whisper quiet washes and delicate drying with Whirlpool's intelligent laundry range.
Intelligent 6TH SENSE technology continually monitors your laundry, adapting the cycle and resource use to give you superior results whilst saving up to 70% on energy, water and time on washing and up to 50% in energy on our tumble dryers*.
Washing Machine
Washing your clothes has never been so peaceful with ZEN technology offering the quietest spin cycle on the market**. Endorsed by Quiet Mark, the washing machine operates at as little as 68 dB(A), as quiet as a conversation, perfect for open plan living.
Washer Dryers
Load your laundry and let 6TH SENSE take care of the rest. This intuitive technology detects the size of the load and automatically sets washing and drying parameters. 6TH SENSE technology continually monitors your laundry, adapting the cycle to give you superior results, saving energy, water and time.
Tumble Dryers
6TH SENSE sensors continuously monitor the humidity and drying levels of each load, adapting the cycle automatically, to prevent over or under drying and using the least amount of energy necessary to achieve the best drying results.
*Comparison between max load and 1kg load in a washer with 6TH SENSE function on Cotton 60oC, and Compared to a machine without 6TH SENSE technology on the tumble dryer.
**ZENTechnology has the lowest sound level on the market in spinning noise up to 10kg capacity and up to 1400 rpm based on the sound level declared by competitors (status December 2014).
Whirlpool Cooking
Fast, even and intuitive cooking
Whirlpool's built-in cooking collections are created with a eye for beauty and cutting-edge design. Achieving a simple, yet sophisticated look, incorporating premium finishes that work seamlessly in your kitchen.
Whether you desire something deliciously tender, perfectly browned or finely crisped, intelligent 6TH SENSE technology automatically adapts the cooking time and temperature, giving you the best cooking results, no matter what's on the menu.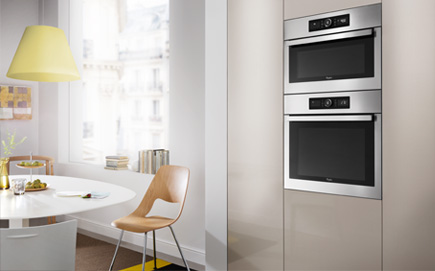 Ovens
30 Pre-Set recipes do all the thinking for you. 6TH SENSE technology selects the ideal cooking function and adapts the time and temperature throughout the programme, so you enjoy gourmet results at home.
Hoods
6TH SENSE technology intuitively adapts both the extraction speed and power to keep your kitchen odour and grease-free. Whirlpool's revolutionary Zero Drop Technology prevents condensation forming on the hood, reducing the risk of drips falling onto the hob or into food.
Whirlpool Refrigeration
Food stays twice as fresh whichever shelf you use*
Whirlpool's cooling appliances provide the best environment to preserve even the most delicate food.
Unique 6TH SENSE technology uses innovative sensors to maintain the optimum temperature and humidity to preserve your fresh and frozen food, so you can make fewer grocery trips. Maintain the taste and quality of meat and fish with ease thanks to a dedicated compartment kept at 0°.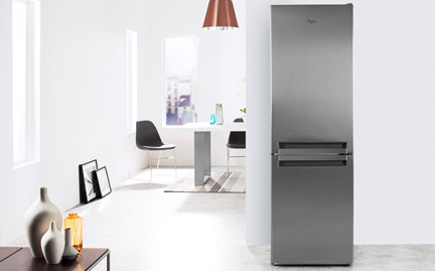 Fridge Freezers
Independent control of the fridge and freezer ensures the perfect level of humidity throughout the appliance, preserving freshness, taste and colour of your food for longer. There's also no need to defrost your freezer ever again thanks to the fully frost-free environment.
Whirlpool Dishwashers
Powerful cleaning and drying, in just one hour*
Outstanding cleaning results with up to 50% savings in time and water**.
6TH SENSE technology automatically detects the level of food residue on your dishes, and optimises resources to suit, guaranteeing low water consumption and highly efficient energy use. Forget pre-rinsing dishes, PowerCleanPro's powerful jets remove even the most stubborn, baked-on food.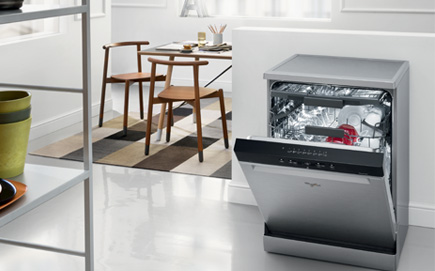 Freestanding Dishwashers
Enjoy superior cleaning and drying performance on up to 14 place settings, so no matter how big your dinner party, the cleaning up is done with ease.
Integrated Dishwashers
If design and visual harmony is your priority, a fully integrated dishwasher allows for ultimate co-ordination in your kitchen. An exterior panel will ensure the appliance fits in perfectly with the rest of your cabinetry.
*Using the 1 hour Wash&Dry programme. Based on internal test results (October 2013). The PowerClean function cannot be used with the 1 hour Wash&Dry Programme.
**Based on internal testing. Percentage calculated between the minimum and maximum water and time consumption of the 6TH SENSE programme.