Bosch cooking
Truly perfect baking and roasting requires not only the ideal temperature but also the appropriate heating mode. From 4D Hotair to Hotair Eco, Bosch Serie 8 ovens offer up to 15 heating modes that deliver great results, whatever the dish.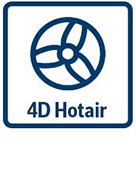 Even heat.
Maximum flexibility.
Thanks to 4D Hotair, you can place your food on any of the four shelf levels and the results will be consistently perfect. 4D Hotair also makes it possible to bake and roast on up to four different levels simultaneously.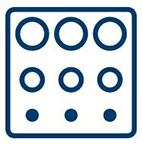 The easiest way
to clean your oven
The ultimate in self-cleaning power. Pyrolytic self-cleaning heats the oven up to around 480°C, which reduces dirt and grease deposits to dust that can easily be wiped away.
Cooking with induction
Induction hobs use an electromagnetic field to instantly generate heat, giving you control and responsiveness, whilst being incredibly energy efficient. They can heat food and boil water nearly twice as fast as gas*.
*Based on time required to heat 2 litres of water at 15°C to 90°C using Bosch hobs.
Now you're cooking on gas.
Professional performance, stunning good looks and ultimate control. A gas hob delivers instant heat and is easy to adjust and control. With a selection of widths and finishes to choose from, a gas hob can add as much stylish elegance as practical functionality to any kitchen.
Discover more from Bosch.
With our range of built-in appliances to complete your kitchen including: