When you're gasping for a brew it can feel like the kettle takes forever to boil. A boiling water tap is the perfect solution to this problem as you have instant boiling water with the turn of a tap. No longer will you have to wait around for your kettle to boil!
Quick – The average kettle takes around 3 minutes to boil which means we wait around 18 hours a year waiting for our kettles to boil, and that's only if you have one cuppa a day! The boiling water taps are instant and so no longer will you have to linger around the kettle, giving you more time to do other things.
Many Uses – Even though we feel the boiling water taps are perfect for making tea or coffee faster, they also have many other uses such as cooking pasta and rice faster, cleaning fruit and vegetables, sterilising baby bottles, filling hot water bottles and thawing frozen food.
Energy Efficient – Boiling water taps cost 3p per day, Npower says that boiling a full kettle is around 2.5p per boil.
Safety – Most boiling water taps feature a safety handle which means you can't just normally turn the tap as you will need to press down on a safety button and twist the handle to release the boiling water. Another safety feature they have is that the tap delivers the boiling water at a lower pressure to avoid it potentially splashing. These safety features are especially important if you have children around.
More kitchen counter space – Getting rid of the kettle and replacing it with a boiling water tap creates a more spacious counter area, giving you more room to work your magic in the kitchen.
No Water Wastage – Whenever you boil a kettle for hot drink, the kettle is always filled way too much for what you need and thus water is then poured out, creating a huge waste. With the boiling water tap, you can fill up your mug, bowl, cooking pot etc, to your desired level, decreasing your water wastage.
Types of Taps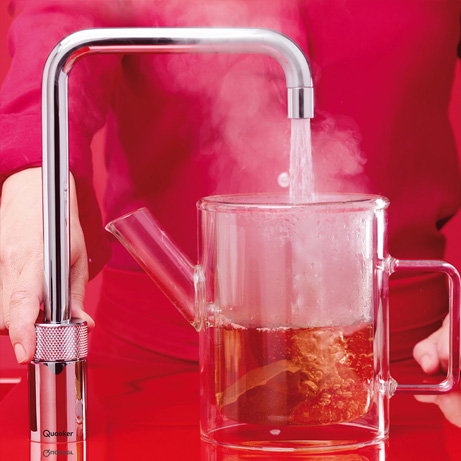 The only function of these taps is to provide boiling hot water.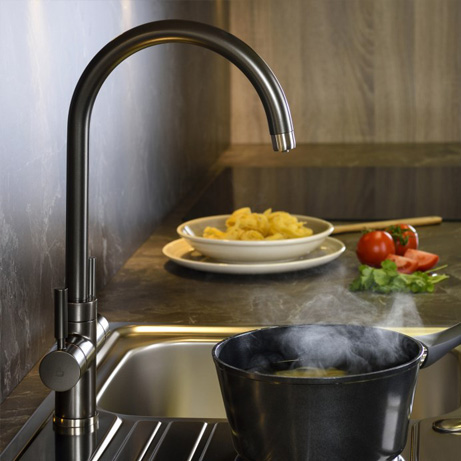 The 3 in 1 boiling water tap provides you with a cold water feed, hot water feed and a boiling water feed. Check out our suggested taps below which will help you choose the right 3in1 tap.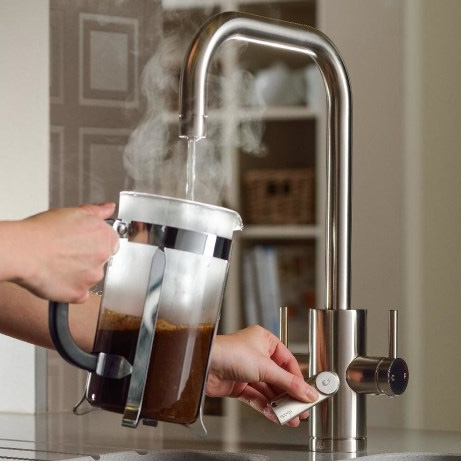 The 4 in 1 tap will provide you with hot, cold and boiling water feeds. Additionally it provides you with a filtered water option. See our recommended taps below, chosen for you by our experts.
It's important to consider safety when buying a boiling water tap to prevent children, and adults, from burning themselves. Some boiling water taps have a child lock for added safety and protection. The mechanism is a spring lock which needs to be activated by pushing it to dispense the boiling water. Other boiling water tap systems also have a safety lock which can be engaged so that no one can use it without first unlocking it. Some systems have a feature where the boiling water comes out of the tap at a lower pressure to avoid the water from spitting and splashing.
A carbon filter keeps your tap working well as phosphates coat the calcium to help prevent it sticking to the element. The carbon removes the chlorine taste whilst reducing lime scale, chlorine and impurities ensuring your tap water is as pure as possible. It is recommended that carbon filters are replaced every six months. Not all hot water tap brands use carbon filters so this may need to be considered. Factor in the cost of filter replacements when deciding on which tap to buy as prices of filters can vary between brands.
The factory temperature pre-set will usually be 96C. You can change the water temperature by turning the thermostat dial.
If you do not use the boiling water tap for prolonged periods of time, you will need to unplug and drain the unit. To replace the filter, follow the manufacturer's instructions. Most boiling water taps will need servicing every few years, which can work out to be fairly expensive over time.
Is there sufficient space underneath the water outlet? The tank will need to go underneath or near the tap and so there will need to be a place where the tank can be housed.
If you live in an area with a hard water supply, you may find that your filters build up quickly. The tip of the tap should be descaled every month by soaking in white vinegar.
The capacity of tanks can range from 1.7 litres to 7.6 litres and so if you will be using it a lot throughout the day, it may be best to consider a boiling water tap with a tank that has a larger litre capacity.