Product Information
Real American BBQsince 1948
The Char-Broil® Performance Series™ 220b 2-burner gas grill creates juicy, evenly-cooked food every time.
This high-quality BBQ is an investment for an expert grill master, backed by up to a 5-year warranty. It incorporates Char-Broil's unique Tru-Infrared heat technology to prevent flare-ups that burn succulent foods, like steak or grilled chicken.

Up to 50% juicier food
TRU-Infrared grills use an emitter plate that sits above the flames and below the grates, locking in flavour and making food juicier.

Stand out features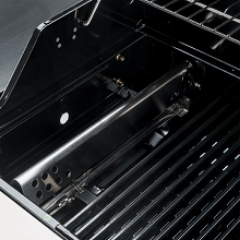 Stainless Steel Burners
Strong cast iron grids sit over the powerful 6.15kW burners.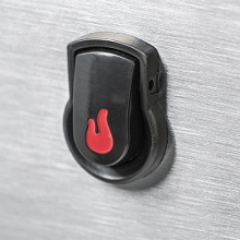 Surefire® Ignition
Safely light your burners with the push of a button.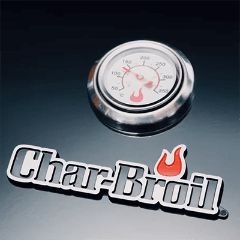 Temperature Gauge
The lid-mounted temperature gauge monitors the internal cooking temperature.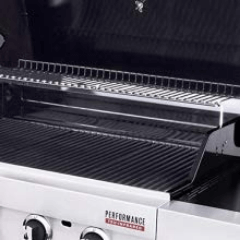 Warming Rack
Keep cooked food hot or toast burger buns and baguettes.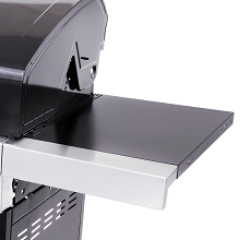 Side Shelves
A handy place to rest your tongs or prep food.
Porcelain Coated Grates
Durable porcelain coating for easy to clean, rust-resistant grates.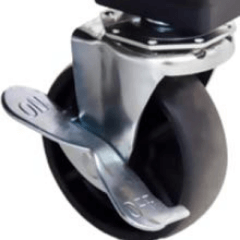 Wheels
Four wheels with two locking castors to move and stabilise the BBQ on demand.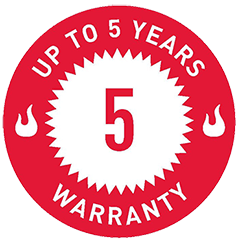 Warranty
Quality assurance and peace of mind: 5 years on the stainless steel burners. 2 years on all other parts

Performance Series™ 220b Gas GrillCooking Area
Main cooking space: 1923cm2. That's enough room to cook approximately:

16 Burgers

10 Steaks
Cook 15 burgers at once on this 1,923cm2 grill
Two burners with 6.15kW output
Solid and durable build backed by an up to 5 year guarantee
Cooks up to 50% juicier food with 30% less gas
High-quality steel BBQ with black enamel doors
Sizzle food up to 350° on this propane gas BBQ
Lockable castors help with cooking and storing
Quick to assemble, approximately 30-60 minutes
Why Buy Me
TRU-Infrared technology sets it apart from the crowd
Cooks up to 50% juicier food with 30% less gas
Two powerful burners with a 6.15kW output
Solid and durable build backed by a 5-year guarantee
Quality steel body with black enamel details
Cook up to 350°C on this butane or propane gas BBQ
Lockable casters help when cooking or storing
Quick assembly time: approximately 30-60 minutes