Product Information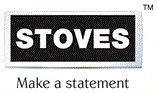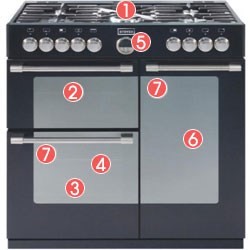 A gas hotplate with 5 burners, including a powerful 3.5kw wok burner provides maximum cooking control, the heat change is immediate and precise so you can simmer gently as well as boil.
Dual Circuit Variable Grill
Dual circuit variable electric grills let you adjust the grilling power to suit, but with faster pre-heat times and the precision of a temperature dial.
Electric multifunction oven
The main multifunction oven features 9 functions including fan oven, intensive bake, conventional oven, browning element, defrost, pizza setting, a top and base heat and fanned grilling.
Telescopic slider shelves
The Stoves Sterling features intelligently designed telescopic shelves that allow easy access to food inside the oven. They slide out smoothly to a safe point so you don't have to reach into the oven.
Fully programmable clock and timer
A 24-hour digital clock that you can use to programme the bottom left oven to come on and go off so your dinner can be ready when you get back from work.
Large capacity tall oven
Stoves offer the largest tall oven available on a 90cm range cooker, so you can enjoy multi-level cooking options within a huge 91 litre capacity oven. Perfect for batch baking.
Halogen Flood Lights
Check on your pudding, sponge or souffle without opening the oven door using our halogen flood light which gives off a third more light than a standard bulb, but uses 20% less energy.
Flame safety device
For added safety, this device is designed to detect if the flame goes out on your appliance and will cut off the gas supply immediately.
Easy clean enamel
Wipe away spills easily with our specially designed enamel which helps prevent food from sticking on to the surface.
AA energy rated
Both ovens are A energy rated. The energy rating of an oven tells you how efficient it is, with A rating being the most efficient - helping you save on your electricity bills.
Winner of a Which! Best Buy award!
Key Features
5 gas burners including large 3.5kW wok burner, cast iron pan supports and removable griddle
Programmable 10 multifunction electric main oven
Seperate dual circuit electric grill
Main multifunction electric oven
Tall fanned oven - with a 91L capacity
AA-energy rated
One piece hotplate
Telescopic shelves
Pristine® enamel
Made in Britain
Flame safety device
40W halogen oven lights
Dimensions (mm)
Height: 900-930
Width: 896
Depth: 600
A Guide to Fanned Ovens
Find out the benefits of fanned ovens, and unlock the potential.
A Guide to Telescopic Shelves
Smooth sliding telescopic shelves are the smart way to reach things in your oven, find out more in this quick video.
Belling's Tall Range Oven
This Range Cooker includes THE largest domestic cavity oven on the marketing, with 91 litre capacity. Find out more with this short video.
Multifunction Ovens
Giving you flexibility and freedom to cook a wide variety of foods. Find out more here.