Product Information
Combining elegance and power in one appliance, this electric ceramic hob from New World provides accurate and powerful heat with a stylish granite effect finish. With modern touch controls, operating this hob will be effortless and swift, helping you to get cooking done that much quicker.
Other fantastic features of this ceramic hob include automatic heat-up, a child lock and a handy safety cut off function.
Dimensions: (H) 50mm x (W) 590mm x (D) 520mm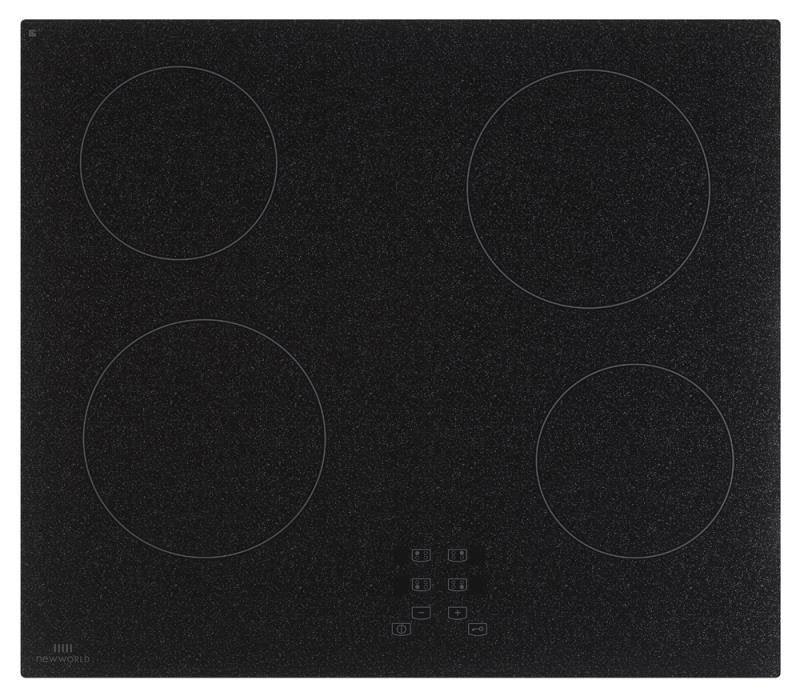 Flexible cooking
4 burners, 2 sizes: This electric hob increases your cooking options by having 4 burners in 2 different sizes, which makes it suitable for standard size family dinners or larger family get together meals.
9 power settings: Each burner on this ceramic hob has 9 power levels, which allows you complete control of the amount of heat going to your cooking for more accurate and controlled cooking.
Touch controlled
With easy to read graphics, the touch controls on this ceramic hob makes cooking painless and controlling the heat source speedier. The controls are front mounted which makes it much more convenient to use, rather than having to reach over hot saucepans to operate the hob.
Automatic heat-up
Get your cooking up to speed effortlessly with the automatic heat-up function. Simply select the power level you want it to heat up to and the hob will bring it to that heat. Whilst its heating a red light will remain on until it has fully heated so that you know when it's at your desired temperature.
Child lock
To avoid unintentional switching on of the appliance, you can lock the hob down to give you peace of mind when you're not in the kitchen.
Safety features
Safety cut-off: If the power level is not changed for a long period of time, the cook zone will automatically turn itself off, in case you have forgotten. The maximum time a cook zone can stay on depends on the power level.
Pan overheat protection: Similar to the safety cut off feature, the hob will monitor the heat of each zone and if an excessive temperature is measured then the zone will automatically turn off.
Hot hob indicator: You'll be made aware of any residual heat on the hob with this indicator, so that you know when it's cool enough to touch.
Pan detection: The hob detects if a pan is on a zone, so if a burner is still on and there is no pan detected, the hob will switch the burner off. Please do not rely upon this system as your means of switching off the appliance.
What saucepans are suitable for this hob?
Saucepans made of ferrous metal are suitable for use on this hob, so copper, enamelled steel or aluminium saucepans are NOT recommended.
Easy to clean
The glass ceramic surface can be easily wiped clean of food splatters and sauce spillages making it absolutely effortless when caring for this hob. If you want to give the hob some extra TLC, then take a look at purchasing this ceramic hob care kit to keep the surface looking as good as new.
Energy details
Energy type: Electric
Connected load: 5.5 kW
Fuse size: 32 A
4 burners, 2 sizes
9 power levels
Automatic heat-up
Child lock
Pan detection
Cut out size - (W) 560 x (D)490 mm