Product Information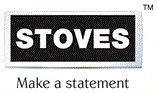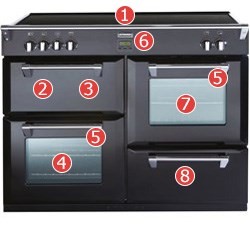 5 Zone Touch Control Induction Hob
Induction technology works by heating the pan rather than the hob, offering a smarter, faster, safer and energy efficient way to cook. Stoves Induction cookers can be connected to your existing 32amp power saving additional installation costs.
Variable dual circuit grill and conventional electric oven
The variable dual circuit grill allows the temperature of the grill to be altered and also provides the flexibility to use either half or the full width of the grill depending on your requirements. This cavity can also be used as a conventional electric oven which is perfect for smaller portions, or for extra capacity if youre cooking for a big family.
Open door grilling
This allows the air to circulate, so the food truly grills, and does not bake.
Electric multifunction oven
The main multifunction oven features 9 functions including fan oven , intensive bake, conventional oven, browning element, defrost, pizza setting, a top and base heat and fanned grilling.
Halogen Flood Lights
Check on your pudding, sponge or soufflé without opening the oven door using our halogen flood light which gives off a third more light than a standard bulb, but uses 20% less energy.
Fully programmable clock and timer
A 24-hour digital clock that you can use to programme the multifunction oven to come on and go off so your dinner can be ready when you get back from work.
Fanned electric oven
An even temperature is achieved through the oven as the air is circulated by an integral fan, making it perfect for batch baking.
Fanned defrost function
Defrost your food in half the time and more hygienically using the fan defrost function which circulates room temperature air around the food.
Slow cook oven
The Stoves Sterling features a dedicated slow cook oven, perfect for cooking meals on a low heat for a long time, ideal for casseroles or stews.
Telescopic slider shelves
The Stoves Richmond features intelligently designed telescopic shelves that allow easy access to food inside the oven. They slide out smoothly to a safe point so you dont have to reach into the oven.
AA energy rated
Both ovens are A energy rated. The energy rating of an oven tells you how efficient it is, with A rating being the most efficient - helping you save on your electricity bills.
Key Features
Induction hob with 5 zones
Main multifunction electric oven- fan, intensive bake, conventional, browning element & fanned grill
Fanned electric oven
Separate dual circuit electric grill & conventional electric oven
Slow cook oven
Telescopic shelves
Internal oven lights
Programmable main oven
AA Energy Rating
Easy clean enamel interior
Touch control hotplate
Digital power display
Hot zone light
Dimensions (mm)
Height: 930
Width: 1096
Depth: 600