Product Information
Give your kitchen a modern makeover with the addition of a stylish and sophisticated curved glass chimney cooker hood. With a generous extraction rate of 390 m³/hr and a subtle stainless steel design, this cooker hood merges style and functionally effortlessly to banish unwanted cooking odours and steam.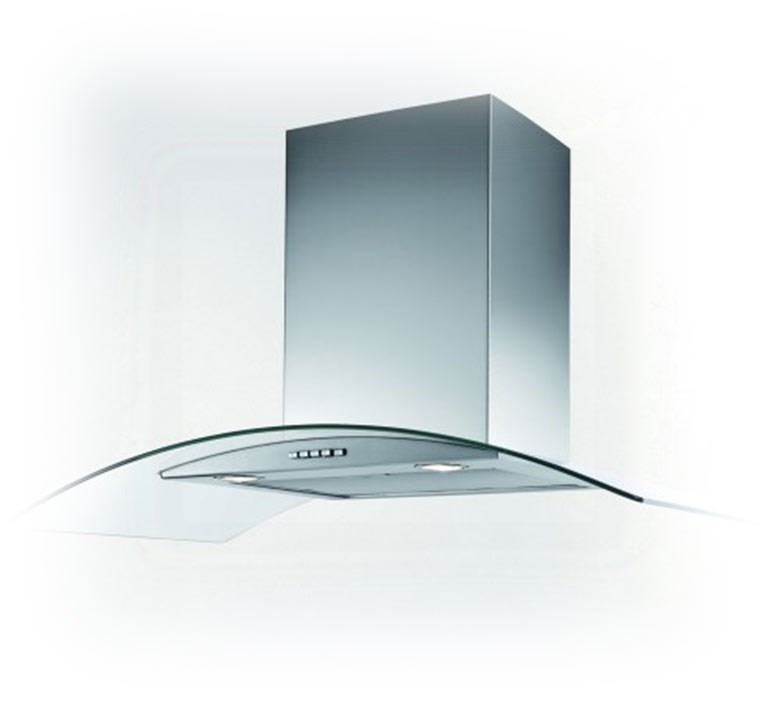 How will this look in my kitchen?
This chimney cooker hood is designed to be fitted to your kitchen wall above the hob. The chimney section is telescopic, which means that the height can be adjusted to help you achieve the correct distance above the hob:
Height needed above electric hob: 650mm
Height needed above gas hob: 750mm
This cooker hood is wall-mounted, so make sure you measure the dimensions carefully to ensure that the hood will fit comfortably above your hob and between any existing cabinets:
Dimensions: (H) 535mm x (W) 900mm x (D) 490mm
An extraction method for every kitchen
This cooker hood is suitable for ducted out and recirculated extraction, which makes it suitable for all types of kitchen positions and layouts. If you choose to extract the air out, you'll need a ducting kit and if you have to recirculate the air back into the kitchen, you'll need a charcoal filter.
Efficient extraction with variable speeds
The maximum extraction level for this chimney hood is 390 m³/hr which is ideal for small and medium kitchens. If you're not sure what extraction rate is best for your kitchen, take a look at our Cooker Hood Buying Guide.
Not every dish you cook emits the same amount of odour or steam, so the extraction can be controlled by 3 speed settings on push button controls to suit the amount of air that needs extracting. The grease filter ensures that the extractor remains performing at its best – just remember to clean the filter every 2 months or so!
Modern Design
The stainless steel and glass canopy gives this cooker hood a smooth and modern appearance that is guaranteed to be an eye-catching appliance in the kitchen. The unbranded design means that it will blend seamlessly with other kitchen appliances so your kitchen remains succinct and streamlined in design.
Energy-efficient lighting
2 halogen lights are integrated into the underside of this cooker hood so that you get a full coverage of light onto your hob. Unlike normal incandescent lights, these halogen bulbs are longer-lasting and energy-efficient to save you some pennies on the energy bills and frequently buying new bulbs.
Curved glass canopy chimney hood
390 m³/hr extraction rate
Modern stainless steel and glass design
3 extraction speeds
Suitable for ducting and recirculation extraction
Please note: This chimney hood is designed to be fixed to a wall.