Product Information
This is a graded product. A2 products may have cosmetic scratches and minor marks. All products are tested and are in good working order.
GRADE A2 - Minor visible dents & scuffs
Your kitchen or its appliances don't have to be big to succeed as a good cook, and this is exemplified by the compact yet mighty microwave from Electrolux!
Powerful, sophisticated, and speedy, this built-in microwave with grill will give you a helping hand making some delicious meals at the push of a button, saving you time and space in the kitchen – perfect for a delicious meal in a hurry, a quick reheat, or a more compact way of cooking in a smaller space!
Dimensions: H459 x W594 x D437mm
It's smart
With a function for grilling or microwaving, this dual-function kitchen appliance gives you more cooking choices, so that you can make some truly fantastic meals in a shorter, microwave-fast time.
The 1000W quartz grill, supplied with low and high grill racks, will turn a microwave from simply cooking food, to creating a meal. The grill will give that gorgeously browned texture that we crave from an oven but in a lot less time, so that your meals will look good as well as taste good!
It's sophisticated
To keep up with busy lifestyles and chaotic dinner times, this intuitive microwave can look after your food for you whilst you tackle other dinner preparations.
The automatic defrost program will thoroughly defrost food every time so you don't have to continually poke at it to check that its done.
With weight controlled auto-programs, this clever little microwave makes sure you always use the correct level out of 5 power levels for every meal you cook, so you don't have to constantly check and fuss over it!
To put your mind at rest when you're not in the kitchen, this Electrolux microwave also comes with a child lock to prevent children from accidentally operating it!
It's a snap to use!
With some fantastic features under its belt, this built-in microwave takes carefree cooking to another level!
From the moment you put the dish in, to the minute you take it out, the 24-hour digital clock and auto-timer will display the meals progress on a clear digital display, giving you immediate feedback on your dish at just a quick glance!
With an audible cooking end signal, you can concentrate on everything else that's going on in the kitchen right up until the moment the food is done because you won't have to worry about not hearing it finish!

It's stylish
Built-in (or built-under) for a seamless and integrated fit into your kitchen, this Electrolux microwave is a perfect and unobtrusive addition to your kitchen.
The clean, smooth lines around the door, display, dials, and buttons, make it smooth and effortless to use, and the stainless steel interior exudes a premium and productive feel.
With a crisp, white finish, it can complement your other Electrolux appliances, or blend perfectly with such items as fridges and freezers.
Impressive right from the word go, this built-in microwave with grill from Electrolux is sure to win the affection of starving stomachs from the minute the first yummy, piping hot meal comes out of it!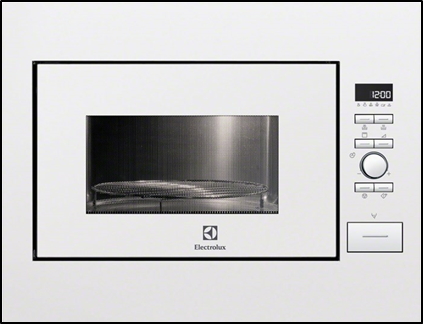 Dual-function microwave and grill for quick and sophisticated cooking!
Built-in microwave oven for a seamless, integrated fit.
Weight controlled, intuitive auto-cooking programmes for carefree cooking!
Automatic defrost program for thoroughly defrosted food every time.
Digital display for clear an immediate feedback on your dish.