Product Information

This is a graded product. A1 products are "as new" but have been box opened. All A1 products will be fully bubble-wrapped for transportation.
THE ULTIMATE KITCHEN ASSISTANT
The iQMix Platinum is highly versatile, breezing through a vast range of kitchen tasks it can eliminate the number of appliances you require in your kitchen.
Blenders of this quality with such powerful performance capabilities have traditionally been limited to professional kitchens or been out of reach due to the hefty price tags. Not anymore, introduce professional blending to your kitchen with the iQMix Platinum, suitable for domestic and commercial use.
With powerful pulsing and pre-programmed settings the iQMix Platinum will reduce time spent in the kitchen and make tougher tasks simple. Blitz up a smoothie, create piping hot soup, whiz up delicious frozen desserts, make dough in minutes and much more, all with a single appliance.
HOW DOES IT WORK?
The iQMix Platinum has a Tritan BPA free wet jug which has a durable design to handle kitchen tasks with ease. Combined with super strong Japanese stainless steel blades which can effortlessly pulverise the thickest of ingredients.
The iQMix is equipped with a tamper enabling you to push ingredients down, helping to process whole ingredients to ensure everything is blended evenly. The tamper accelerates the processing time, helps food circulation and eliminates air bubbles.
VERSATILE CONTROLS
The iQMix Platinum features stylish touch controls that are easy to get to grips with. The controls are fully adjustable, with variable speed, time and pulse control, letting you can cater to specific recipes.
With six pre-programmed functions to choose from it couldn't be easier to get started. Choose from juice, nut milk, sauce, smoothie, soup and protein shaker. Hot mixtures such as soup and hot chocolate can easily be achieved with the iQMix as the appliance transfers friction heat to the liquid. It's never been easier to make your own nuts butter or milk and flour thanks to the iQMix's high quality blades which make light work of nuts, seeds and grains.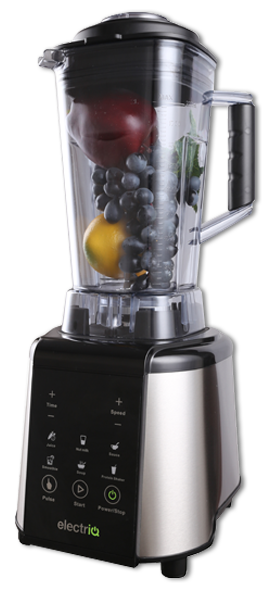 WHAT CAN I DO WITH THE IQMIX PLATINUM?

Blend whole fruit and veg, maintaining nutrients & flavour.
Blitz up juice in just 2 minutes.
Make steaming hot soup from cold ingredients in as little as 5 minutes!
Create your own all natural frozen desserts.

Mix up a hot chocolate treat from cold ingredients.
Make milk using nuts, seeds, grains or coconut. No additives or preservatives.
Using any kind of nut you like or a tasty mix create delicious butter.
Use the iQMix Platinum just like a food processor.

The longer you blend the smoother the mix.
Achieve a smooth and perfectly combined mix.
Don't be put off from making your own dough, the iQMix makes it easy.
Make homemade flour with wholegrains such as wheat, rice, oats and spelt.
Features:
All in one multifunctional blender
Supplied with recipes - fully compatibe with Vitamix recipes
Suitable for commercial or domestic use
Create entire meals from soups to desserts
Make steaming hot soup from cold ingredients
Create your own delicious sorbets and ice cream
Whiz up your own sauces and dips
Variable fine speed settings enables diverse operation
Powerful pulse control delivers better food circulation
Easy to use automatic digital controls with 6 pre-programmed functions and full manual controls for maximum flexibility
Self-cleaning function, easily clean between tasks and before storing
Super strong commercial grade stainless steel blade
Perform multiple tasks without needing to change blades or containers
Multiple protection system –protects from overheating and ensures long operation
Quality BPA free Tritan wet container also can do milling and light dry grinding


High
Quality
Manufactured in the same factories as the leading brands.

Great
Value
The UK's lowest prices with no compromise on quality.

Design and Technology
electriQ design high quality products using the latest techology.

Hundreds of Products
An extensive range of products from large appliances to gadgets.