Product Information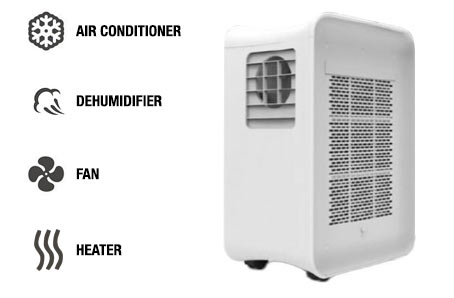 PORTABLE ALL-ROUNDER
This A rated energy efficient air conditioner from electriQ is one of our most popular portable all-in-one models. The AirCube AC9000E unit boasts a powerful air conditioner that's ideal for rooms up to 18 sqm (cca 194 sqft) and comes with a unique evaporation booster to add a refreshing, cooling effect. It also functions as a fan, dehumidifier and heater so you can remain comfortable all year long.
4 IN 1 DESIGN
Thanks to its multi-functional design, the Aircube AC9000E makes the perfect all-year-round product. In the summer you can take advantage of the air conditioner and fan modes to stay cool. And, when the weather starts to drop in temperature, you can switch to heater or dehumidifier mode and keep warm. The dehumidifier will also help remove excess moisture from the air to create a healthier environment.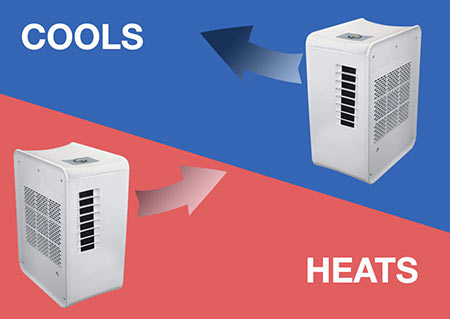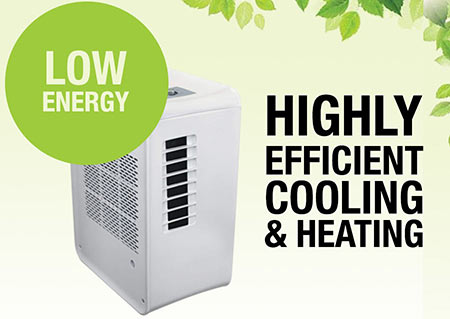 ENERGY EFFICIENT
This energy conscious air conditioner features the most efficient type of cooling and heating systems to deliver impressive performance without compromising power consumption. It requires only 0.75 kW of power to produce 2 kW of heating, which works out far more cost-effective when compared to electrical or central heating. Plus, it's been awarded an impressive 'A' energy efficiency rating which makes it cheap to run and can bring down the cost of your energy bill.
CLEVER DESIGN
Measuring in at a mere 63cm in height, the AirCube AC9000E is perfectly sized to sit discreetly out of the way under a desk or in the corner of a room. It's extremely portable and can be moved around from room to room with ease using the hidden castor wheels. The rotary control knob allows for quick and easy operation of all the major functions. This model works straight out of the box and does not require any permanent installation.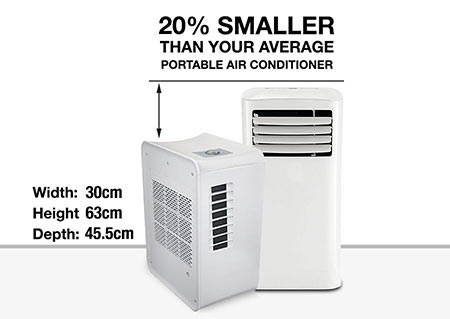 Why this air conditioner is right for you:
Cooling, Heating and Fan mode
A rated for Energy Efficiency
All year round climate control
Space-saving design
Very low power consumption at max. 900 watts
Great for Homes, Offices, Caravans or Boats
Ideal for medium sized rooms up to 18 sqm (194 sqft)
Light and easy to move on castors
Easy to use control panel with mechanical knob for selection of the operation mode and fan speed
Reversible heating mode using only 700 watts
This air conditioner is packed full of features:
Unique evaporation booster for high efficient cooling
2-speed fan enable to select maximum cooling / heating effect vs quiet operation
R410A green refrigerant for improved cooling
Reverse cycle heating, efficient and easy to convert
Washable filters
Cable management compartment at the back
Technical Information:
4 in 1 unit with Heating, Cooling, Fan also dehumidifies in Cooling or Heating mode
7,000 BTU (2kw) Cooling and Heating
Dehumidification max L/day 30
Air flow (at high speed) - m³/h 330
Power supply (V) 220-240
2 kW Cooling, 2 kW Heating
2 speed fan
Running Power consumption (W) 0.9 kW (cooling), 0.7 kW (heating)
Running Current: 3.8 Amps (3 Amps for Heating)
Rotary Compressor with ecological refrigerant R410A
1.5 m venting hose and window kit supplied as standard
Noise dB - Noise Level: 46-50 db low/high mode(sound pressure method)
Max 64.2 dB (sound energy EER method)
12 Month hassle free warranty!
Dimensions:
Dimensions: 30x45.5x63cm (WxDxH)
Weight: 22Kg
The window kit is only designed to be installed with sliding or sash windows and not to be used with any other style of windows. However the fishtail adaptor can be used with most windows / doors to vent the unit. When venting in the cooling mode ensure that the opening left is as small as possible. The air conditioner will need to be vented out also in heating mode, ideally through the wall. By properly venting you expel cold air from your room while efficiently heating it.
Useful Information:
What is a BTU?
1 BTU is the amount of heat required to raise the temperature of one pound of liquid water by one degree from 60° to 61° Fahrenheit at a constant pressure of one atmosphere. As a general rule we advise you to buy an Air Conditioner with a minimum 7,000BTUs as this is the minimum required to cool a small room (18sq/m) on a hot day. Medium rooms (24sq/m) need around 10,000BTUs and larger rooms and office spaces (36sq/m) require around 15,000BTUs.