Product Information
Awarded 'Britain's Most Reliable Tumble Dryer Brand', this 6kg tumble dryer from White Knight is practical, effective and affordable. Designed to fit snug into one of your kitchen units, this little laundry appliance will leave your kitchen looking streamlined and undisturbed at a low noise level of 62db.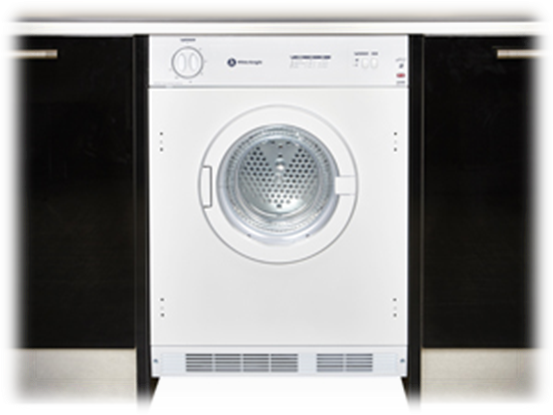 How does it fit into my kitchen?
Tumble dryer: (H)865-890 x (W) 596 x (D) 530mm
Built-in rear vent hose: Extendable up to 1.8metre (Vent kit included)
This integrated tumble dryer is designed to fit effortlessly into one of your kitchen units and hide away behind one of your unit doors.
With adjustable legs and a reversible drum door, it's now become even easier to install this integrated tumble dryer in the place and at the height that best suits you kitchen outlay.
Features
Reverse tumble action:By turning your laundry in both directions, this tumble dryer will loosen up your laundry to keep tangles and creases away.
Final cool down tumble:To make ironing a breeze, the tumble dryer will give your laundry a final tumble to cool down the load and reduce creases.
Timer:With a timer that can go up to 140 minutes, you can get a more precise and effective drying performance.
Fluff filter:Capturing all that unwanted fluff from your laundry load, this fluff filter is easy to access and clean off to keep the tumble dryer performing at its best.
Capacity
The White Knight tumble dryer is ideal for medium sized households, with a 6kg capacity that can dry around 12 t-shirts per load.
Easy to use
With only 1 dial and two buttons to operate this tumble dryer brings a refreshing simplicity to laundry. Instead of cautiously selecting a complicated cycle that may or may not shrink your clothes, you can simply select the cycle time with the dial and choose between 2 heat levels with the buttons and you're off!
To make it even easier on laundry day, White Knight have designed this laundry appliance with a easy to read drying chart on the front of the dryer, so you can be extra sure what you want.
Integrated, vented tumble dryer
6Kg capacity
2 heat settings
Reverse tumble action to reduce creases and ironing time
Easy access fluff filter
140 minute timer