Product Information
FROST
FREE
297L
FAMILY FREEZER
GARAGE
SUITABLE
A+
ENERGY RATING
FREEZER
GUARD
The Beko CF5834APW is the ideal family fridge freezer with 297L of storage, holding on average 16 bags worth of shopping, more than enough for your weekly shop.
INTUITIVE TECHNOLOGY
Store your food in safety and style with the Beko CF5834APW fridge freezer in fresh white. This Beko fridge freezer is an ideal choice for your main fridge freezer or as extra storage as it's suitable for garage and outbuilding use. Equipped with Beko's intuitive Freezer Guard technology your food will be kept frozen even if outside temperatures drop as low as -15°C.
The Beko CF5834APW is easy to upkeep, with frost free technology the freezer compartment is fuss free. There's no messy, storage restricting, ice build-up, enabling you to utilise your full freezer space and open drawers with ease.
PRACTICAL STORAGE
The Beko CF5834APW has a reversible door, allowing you to fit the door to the left or right side, for your convenience and suit your kitchen layout.
Make the most of your fridge space and easily separate your foods with the 2 fully adjustable safety glass shelves and 1 half shelf. The lower part of the fridge features a wide salad crisper drawer to pack in your weekly fresh fruit and veg. With full width commodity no space is put to waste, enabling you to optimise your fridge space, perfect for all your jars, jams and sauces.
Split 50/50 the Beko CF5834APW also gives you plenty of freezer space. With three drawers and a shelf at your disposal you won't struggle to store away leftovers and ready convenience foods. The drawers are also clear, giving you easy visibility to what you have stored away. With a separate ice bank at the top of the freezer you'll always be prepared and there'll be no icy spillages in any of your drawers.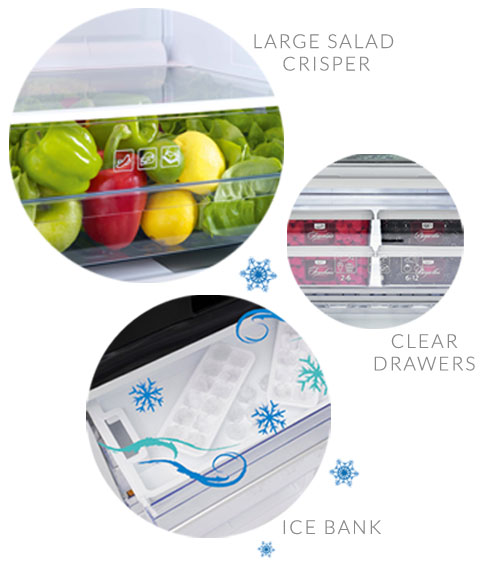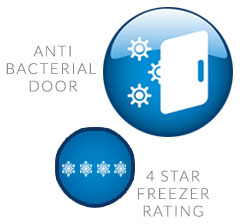 FOOD SAFETY
Rest assured your food is safe with Beko's anti-bacterial door seal. Preventing bacteria from entering the fridge and also stopping bacteria from forming.
The Beko CF5834APW has a four star freezer rating, meaning you can freeze your food and locking in all the flavours and nutrients for up to 12 months.
With a power failure safe storage time of up to 13 hours your food will remain in optimum condition for up to 13 hours, giving you time to fix the issue and saving you from losing a freezer full of food.
ECOSMART
Specifically designed to help save on your energy bills. Choosing an EcoSmart Beko fridge freezer will help you to save on average £10 a year on your electricity bills.
Rated A+ for energy efficiency with the Beko CF5834APW you can rest assured that your fridge freezer is running efficiently, saving you money as well as being kinder to the environment.
Dimensions: H183 x W54.5 x D60 cm
Weight: 61.5 kg
Features:
A+ energy rated combi frost free fridge freezer
Family size slim fridge freezer
Total capacity 297 L (gross) (Fridge 158/Freezer 138)
50/50 Fridge/freezer split
Frost free - no defrosting needed
Reversible door
Anti-bacterial door seal
EcoSmart
Auto defrost
Adjustable shelves
4 glass shelves including salad crisper cover
Separate ice bank
Full wdith commodity racks
Concealed evaporator with cold wall technology
Freezer guard feature ensures frozen food is protected in low ambient temperature down to -15°C
Tech Spec:
Hinge position right
Noise level: 42dB
Power failure safety storage: 8hrs
A+ Energy rating
Annual energy consumption: 298kWh
Recommended installation space:
2.5 cm to the sides
5 cm above
3 cm behind