Product Information
Incredibly spacious, the AEG Competence built-in double oven provides copious amounts of space. Whether you are cooking for your kids or for a dinner party, this oven provides everything you need for brilliant results.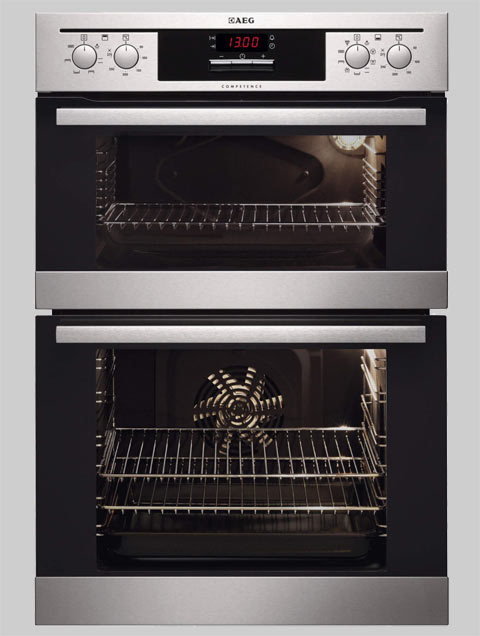 Incredible Size
With two large ovens, this oven has a combined capacity of 104 litres!
The top oven offers 42 litres of space. The shelf can be moved to one of six different heights, producing varying results. This oven offers conventional cooking and also a grill, perfect for those Saturday morning fry ups.
The bottom oven has an incredible 66 litre capacity, which makes cooking several dishes together for meals such as Christmas dinner a breeze. This area offers six shelf heights, with three separate shelves, so you can easily fit all of your dishes in together. AEG's Ventitherm® fan operated cooking function disperses heat evenly around the oven, so it doesn't matter where you fit your dish as the results will always be amazing.
This fan technology also prevents the transfer of flavours between different dishes.
Both ovens feature telescopic runners for really easy access. IsoFront Plus technology keeps the heat inside the oven, meaning the doors are both safe-to-touch for easy and safe operation.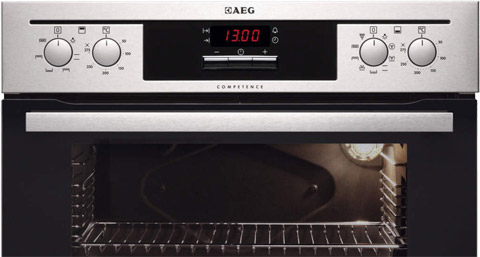 Useful Features
This oven is finished in stainless steel, which makes wiping away splashes and spills quick and easy. Retractable knobs make cleaning even easier as the whole area can be wiped in one simple movement.
Cleaning inside is easy too. The Cataluxe® cleaning system enables you to clean this oven in the most efficient way. The catalytic liners absorb any grease or dirt and, when regularly heated to 230°C, this oxidises and forms as a fine ash in the bottom of the oven. All you have to do is wipe this away.
A handy LED clock provides information including remaining time while the buttons below operate the programmable timer.
This oven is designed to be fitted into your kitchen at eye level.
Features
Increased cooking capacity
Telescopic runners for full control when loading and unloading
IsoFront® Plus for a lower door temperature
Cataluxe® Catalytic cleaning system
Ventitherm® fan operated cooking
Fan controlled defrosting
Conventional cooking
Base heat finishing