Product Information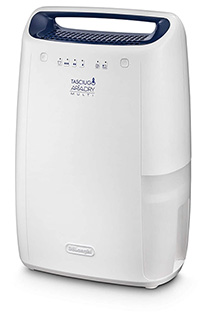 REMOVE MOULD, DAMP & MILDEW
The neat DeLonghi DEX12 dehumidifier is designed to remove excess indoor moisture from homes, and can also be used to dry clothes. It prevents the build up of mould and damp that can be damaging to your health and home. To avoid overflowing, the DEX12 will automatically stop operating once the 2.1-litre tank is at full capacity. Plus, there's also a continuous draining option so you don't even have to worry about emptying the tank. The simple to use humidistat gives you complete control of the extraction level to use in any room, even in cold areas as low as 2ºC.

BREAKTHROUGH DESIGN
This portable unit weighs in at a mere 9Kg and features a built-in carry handle for easy manoeuvrability between rooms. The control panel is seamlessly integrated at the front of the unit for added convenience and style.
MINIMUM NOISE EMISSIONS
Perfect for using at night when sleeping, the DEX12 dehumidifier operates an ultra low noise level of only 38 db so you won't even realise it's there. Best of all, it does all this without ever compromising on dehumidifying performance.
DRY CLOTHES FUNCTION
Most of us need to dry laundry inside particularly during the winter which can cause to a build up of condensation. The DEX12 not only collects the extra moisture from the air but it can help to dry your clothes quicker too.
AIR FILTRATION SYSTEM
The DEX12 comes with a removable filter to trap air borne particles such as dust to improve the air quality. The washable filter can be again and again, simply give it a quick vacuum or rinse with some hot soapy water.
Features:
Capacity 2.1L
Portable design
Extraction rate 12 Litre/24 hour
Dimensions H50cm W33.4cm D22cm
Washable anti-dust filter.
Practical washable air filter
3 speed setting 
Optimized  to minimize noise emissions, making it ideal for bedroom use
Guarantee 2 year guarantee included
Suitable for room size up to 55m²
Electronic anti-frost device
Continuous drainage hose provided
Weight 9.1kg