Product Information
COMBAT MOULD, CONDENSATION & DAMP
If you've noticed a little condensation on the windows or damp on your walls then this portable 8.5L desiccant dehumidifier is just the thing you need. It gives you total control of your room's humidity levels by drawing excess moisture from the air that can lead to the growth of mould and bacteria. For example, if the humidity is too high then your home is at risk of mould, but if it's too low then airborne viruses like flu can survive longer.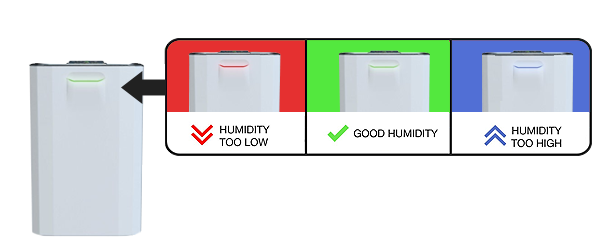 Thankfully, the dehumidifier features a built-in humidistat which lets you set the humidity to your desired level - we suggest anywhere between 50% - 60% and you'll be fine! Fortunately, there's a clever light indicator at the front that changes colour according to the humidity, so you only have to look over to see what colour it is, to know whether the humidity is too low or too high.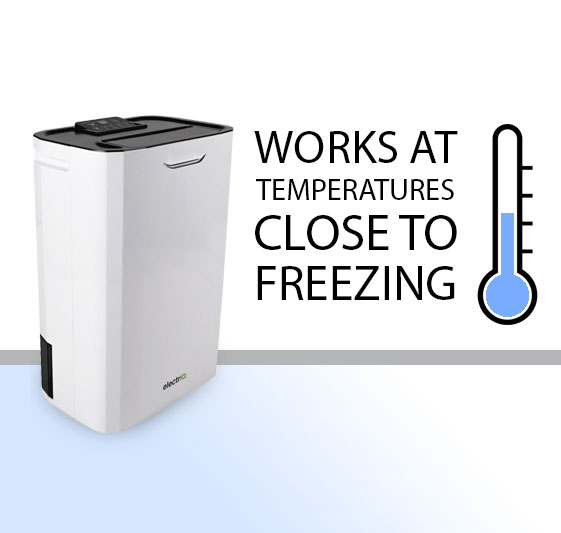 EFFICIENT PERFORMANCE
It is a desiccant dehumidifier which means that it's able to continue functioning at temperatures close to freezing. This makes it a perfect option for use also in out buildings or unheated areas such as garages, cellars and caravans. It also makes it incredibly efficient compared with compressor models. For instance, it's the equivalent to a 25 litres compressor model in domestic use at temperatures 1-32°C and a 45L model in commercial use at temperatures below 15°C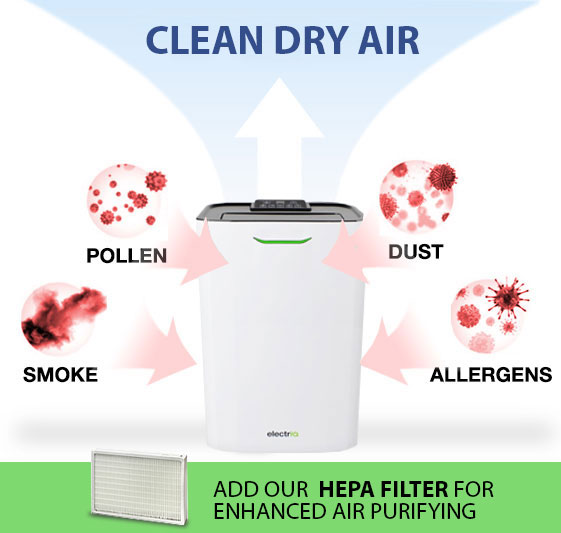 BREATHE A SIGH OF RELIEF
This model even comes with a series of filters to help improve the air quality even further. It boasts both an antibacterial and active carbon filter that work to kill bacteria and help keep that musky smell of mold and mildew at bay. There's also enough room in the unit to add one of our true HEPA filters, to trap dust mites, pollen and other nasty things from the air with 99.97% efficiency! It's perfect for those who suffer from asthma or allergies.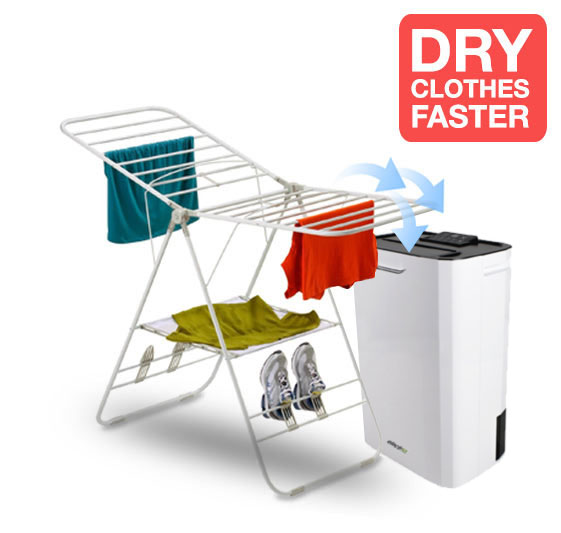 LAUNDRY MODE
If you're finding it difficult to dry laundry outside due to the rain, then you'll be pleased to hear that dehumidifier comes with a handy laundry mode setting that significantly reduces the drying time of damp laundry indoors. This clever little feature will also benefit your heating bills too because you won't have to keep your heating on long to dry your clothes.
Key Features:
New enhanced replacement to our best-selling AM-DD8L
Low temperature operation perfect for garages, cellars, holiday homes, boats and caravans
Fast Dryer great for all houses up to 5 bedrooms or offices
Quiet and energy efficient with smart one-touch setting
Reduces your winter heating bill as dry air is quicker to heat
Intelligent light indicator changes colour according to the humidity
Healthy - Humid Air pulled in; purified, dry, heated air out
Washable Antibacterial filter and optional activated carbon filter supplied as standard
True HEPA filters available can clean pollen, dust and animal hairs in large rooms (up to 55 sqm)
Use the laundry mode more efficient than a tumble dryer to dry your clothes quicker and save money on your energy bills. Also takes less space than a tumble dryer
Large 5 litres water tank or permanent drainage option
All year use
Technical information:
Suitable for up to five bedroom homes
Extracts up to 8.5L per day
Digital controls and LED display
Electronic controls
Washable dust filters for ease of use
Maximum noise level: 48dB
Operational temperature: 1-32 °C
Timer: 1 to 24 hours
Fan Speeds: Sleep, standard and turbo
Continuous drainage option: Yes
Automatically shuts off once the water tank is full
Airflow: 200 m3/hr
Tank: 5 litres
Dimensions: W x H x D: 340 x 511 x 232mm
Weight: 7.5Kg
1 Year warranty

Why choose us?
We've won awards for our products

We use the same factories as bigger brands

We offer hassle-free warranty

We have top notch customer service