Product Information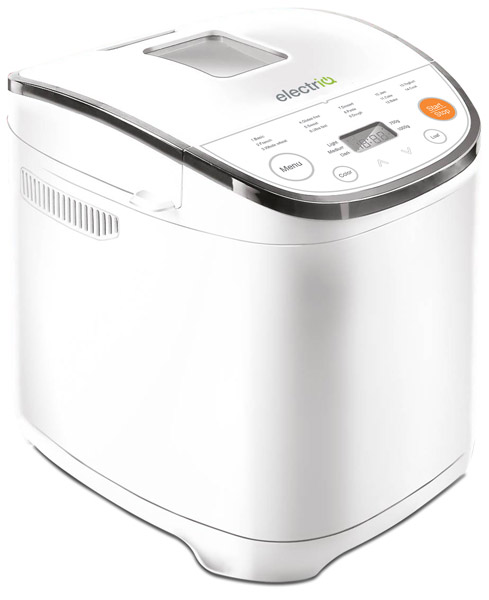 Do you love the taste and smell of freshly baked bread, but don't have the time to make your own?
Now you can enjoy beautiful results in your own home - without the time-consuming hard work - thanks to the Bread Maker from electriQ!
The 14 pre-programmed functions help you to make a wide variety of breads including gluten free, basic and whole wheat. There are even functions to make your own pasta, jam and yoghurt, and cakes.
Key Features
Bake a variety of bread types from scratch with a single press of a button
Add fruit, juice, chocolate and more to cakes and sweet bread
Prepare items such as French sticks to be baked in the oven
Enjoy loaves up to 2lb in weight - that is enough for 16 slices
Keeps loaves warm for up to an hour after baking
How Does It Work?
The electriQ Bread Maker will take your ingredients through the bread making process, spending the optimum amount of time on each stage to deliver perfect results.
Just measure your ingredients out and add them to the machine. Choose your programme and soon you'll be enjoying a delicious loaf of homemade bread. With really simple controls, your home will be filled with the beautiful smell of baking bread before you know it!
Perfect Timing
Not only can you make a wide range of breads and other delicious goods - you can set the electriQ Bread Maker to have your batch or product ready at the perfect time.
Add your ingredients and select your programme before you go to bed and set the timer so you can wake up to gorgeous bread in the morning.
Enjoy lovely soft and warm fresh out of the machine bread for your breakfast. What better way is there to start the day?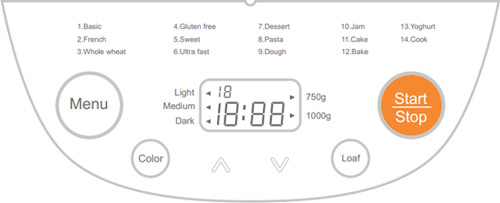 14 Programmes
Basic: For white and mixed breads
French: For lighter breads
Whole Wheat: Produces heavier breads
Gluten Free: Produces gluten free bread
Sweet: Breads with added fruit, chocolate etc.
Ultra-fast: Quick baking
Dessert: For preparing desserts
Pasta: Preparing pasta dough
Dough: Prepares dough for oven baking
Jam: For making jam
Cake: Kneads and bakes cake
Bake: For additional baking
Yoghurt: For making yoghurt
Cook: For cooking items
Features:
LCD display with blue lighting
14 automatic programmes
60 minutes "Keep Warm" Function
13 Hours time delay presetting
10 minutes memory function
Adjustable crust control: Light, medium and dark
Transparent window on the top
Anti-slip bottom feet
High temperature-resistant and no-sticking treatment
With measuring cup and measuring spoon
Dimensions: H 300 x W 240 x D 370 mm
230-240V/50Hz,580W
Capacity: 2.0LB(1000g)
1 Year Warranty
What's in the Box?
Ready-to-use breadmaker
Measuring jug
Measuring spoon
Spare paddle