Product Information
Dimensions - Height (142.5mm)- Width (548mm)- Depth (302mm)
Twin motor
Stainless Steel
Variable Slider Control
Integrated Design
Metal Grease Filters

Technical Details
120 mm diameter ducting connector
IEC airflow: 165-352 m³/hr
Noise level: 53-71 dB(A)
Absorption: 153 W
For a seamless, contemporary look the Eliplane cooker hood is the answer. The streamlined design compliments all kitchen designs with a clean, modern look finished in stainless steel. Elica cooker hoods have been manufactured in Italy for over 30 years, fitting to the latest European standards whilst being renowned for design and performance.
The Eliplane 60 features two centrifugal fans, delivering high performance to effectively purify the air in your kitchen space. The performance can be adjusted via the variable speed controls to achieve a quieter air filtering process, discreet but powerful.
Featuring an 11 Watt fluorescent light the Eliplane 60 cooker hood easily lights up your cooking space so you can get down to business. If you also dine in your kitchen the lighting also makes for excellent ambiance.
This Eliplane cooker hood has metal grease filters which can be washed, allowing you to maintain a grease free kitchen. This model is supplied with a charcoal filter and this should be fitted by an engineer when your hood is installed. You can choose whether you would like to operate the cooker hood as a ducting or re-circulating air purifier. The hood has a ducting connector diameter of 5 inches.
Optional Accessories
Ducting kit: Any 125mm models beginning with: DK5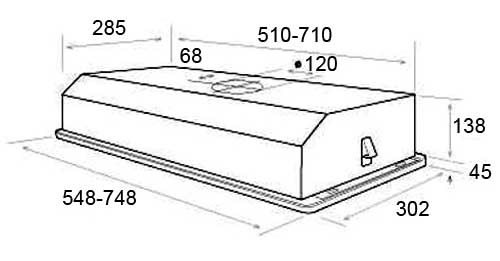 Features:
Integrated
Stainless steel
Twin motor
Variable slider control
14W Fluorescent light
Washable metal grease filter
Ducted or re-circulating operation