Product Information
EFFORTLESS CLEANING
Put an end to the chore of washing up once and for all with the electriQ EQDWINT15PL fully integrated dishwasher. This great value dishwasher comes with 8 pre-set programmes that are tailored to tackle everything a busy kitchen can produce.
The spacious 15 place settings are perfect for larger households that require that little bit extra flexibility and space when loading. Plus, it also comes with an A++ energy rating to help you save money on your power usage.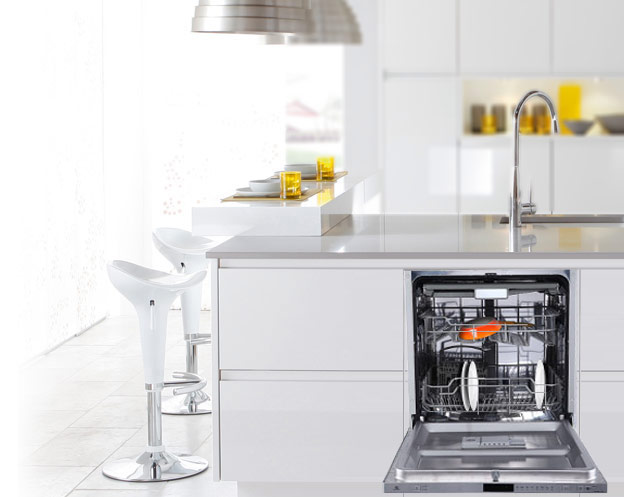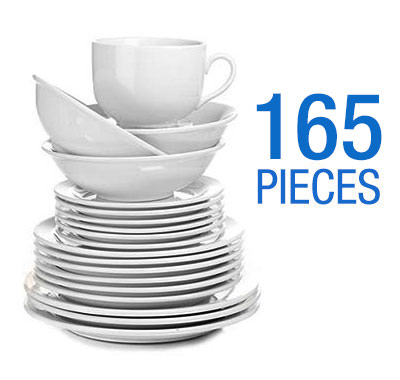 CLEVER DESIGN
This fully integrated dishwasher helps maintain a uniform look in your fitted kitchen, blending in with your existing units once a matching door panel has been fitted.
Inside you'll find an additional cutlery tray at the top to give a full 15 place setting capacity. It also comes in very useful for loading long-handed utensils and freeing up space in the bottom basket to load larger items. A traditional cutlery basket is also included.
ENERGY & WATER EFFICIENT
This advanced freestanding dishwasher not only boasts an impressive A++ energy rating, but it also uses considerably less water than most models (approximately 200L per year), so you can save money on both your energy and water bills without compromising on performance. There's even a time delay setting of up to 24 hours so you can programme the dishwasher to start at a later time to suit your schedule or at night when it may be cheaper to run.
8 PROGRAMMES
With a programme to suit every load, this versatile dishwasher delivers unprecedented cleaning results every time. For example, there's an Intensive Cycle to blast away stubborn food with ease, as well as an ECO Cycle and Half Load mode to help keep your energy and water bills down.
Alternatively, you can remove the guess work altogether and set the dishwasher to Auto Wash. This special mode automatically adjusts the cycle length, temperature and water usage based on the amount of the dish load.
ULTRA QUIET - 44dB
With a noise level the equivalent to light rain, this model is among the quietest dishwashers in its class. It's so quiet, that you'll be able to leave the dishwasher running while you're relaxing, dining or watching TV without the noise ever disturbing you. Plus, as it's extremely quiet to operate, you'll be able to run the dishwasher late at night without it waking you up.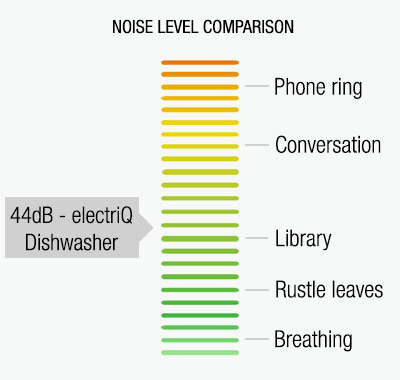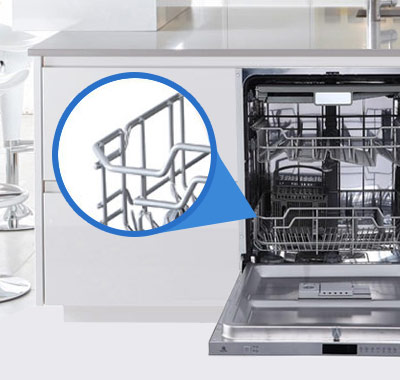 ROBUST & RELIABLE
This high-end dishwasher comes equipped with two heavy duty metal baskets that are designed to be more resilient and last longer than cheaper plastic versions. The coated wire frames are incredibly stable and perfectly suited to hold heavy loads.
For added flexibility, the height of the upper basket can be adjusted to make room for larger pans, plates and baking trays in the bottom basket.
AQUA STOP
Many dishwashers on the market come with a standard water hose as standard. However, if the hose develops a fault, there's a chance it may leak and burst causing extensive water damage to your property. Thankfully, this dishwasher features an Aqua Stop system that consists of a double-walled hose to contain any leaking water in the event of a fault.
Technical specification
15 Place Settings - Wash 165 pieces in one go
A++ Energy Efficiency Rating - Saves money on your energy bills
24h Start Timer Delay - Ideal for busy lifestyles
8 Programmes - Intensive/ Eco/ 90 mins/ Rapid/ Glass/ Soak
44 dB(A) Noise Level - Super quiet dishwashing
Height Adjustable Upper Basket - Allows you to make full use of the wash cabinet
Half Load Option - Ideal for smaller loads
Dimensions: 815mm(H) x 598mm(W) x 550mm(D)
Aqua Stop - Prevents leaks & ensures safe operation
Extra Drying
Additional Cutlery Tray
Salt and rinse aid indicator
Drying efficiency: A
Cleaning Efficiency: A
Number of programmes: 8
Programmes include: Intensive, Eco, 90 mins, Rapid, Auto, Normal, Glass, Soak
Durable and robust baskets
Annual water consumption: 2800 Litres
Water consumption per cycle: 10 Litres
Annual energy consumption: 270 KWH
Energy consumption per cycle: 0.95KWH
Max temperature reached: 70 degrees
Colour: Silver control panel/body
Warranty: 1 year on site warranty
Drain Pipe:1.6m
Dimensions
H x W x D: 815 x 598 x 550mm

Why choose us?
We've won awards for our products

We use the same factories as bigger brands

We offer hassle-free warranty

We have top notch customer service