Product Information
What our experts think...

Hayley
Product Expert
I was really impressed with the 70 litres of cooking space, it's massive! I like to cook big one pot dishes and sides together, like a hearty casserole with some roasted veg on the shelf below. I definitely wouldn't struggle for space with this oven.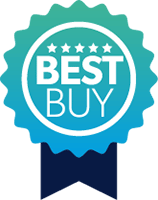 Best Buy
By collaborating with some of the world's greatest brands, we've created specialist Best Buy collections across our most popular product ranges. We will keep them updated, to bring you the best choice, the best price and the best products. And that's a promise.
What stands out
It's super easy to install, simply plug it in and off you cook
With a whopping 70L capacity this ovens ideal for large busy households and entertaining
There's plenty of cooking functions to choose from to find the perfect one for your dish, including a handy grill setting
The glass can easily be removed for cleaning
The enamelled interior takes the hard work out of cleaning the oven
You can install it under a worktop or within a kitchen column for a seamless kitchen design
The details
This built-in electriQ oven will slip seamlessly into any kitchen. You can install it underneath a worktop and pair it with the hob of your choice or place it within a kitchen column at eye level, giving you easy access without any bending. A stand out feature has to be the fact that you can simply plug this oven in and you're ready to go.
With an impressive 70L capacity it's great for larger households or if you throw frequent dinner parties, there's plenty of space to cook up a feast and have it all ready to go for guests. You'll be well equipped to get straight down to cooking too, it includes 2 shelves, 1 tray and a grill pan handle set.
The oven has a top and bottom heating element, you can use each separately or combined for conventional oven cooking, so you can pretty much cook up anything you fancy, from casseroles to cakes with great results. And with an interior oven light you won't need to open the door and disturb your bakes to check up on them. There's also two grill settings, normal grill and double grill, which is ideal for larger dishes. Add a crisp topping to a shepherds pie, grill some tasty bacon or whip up a quick snack like cheese on toast.
When it comes to cleaning up this oven makes it easy. It has an enamel coated interior which is non-stick, so any pesky spillages and splatters can be simply wiped away. The oven has a double glazed door to lock in heat, which not only maintains a better temperature but also makes it more energy efficient. It's been rated A for energy efficiency, so you can rest assured it'll barely make a dent in your electricity bills.
Essential info
Dimensions: H59.5 x W59.5 x D57.5 cm
Unit space: H60 x W56 x D57.5 cm
Capacity: 70L
Functions: Top + Bottom heat, Bottom heat, Top heat, Grill, Double grill
Included: 2 Shelves, 1 Tray, Grill pan handle set
1 Year warranty
More info
Easy installation, simply plugs in
6 Functions, including a handy grill setting
Large 70L capacity, ideal for large households and entertaining
Conventional cooking style, cook anything from casseroles to cakes
Enamel oven interior takes the hard work out of cleaning
Double glazed door locks in heat for more consistent temperature control
Interior halogen light makes it easy to check up on a dish without letting heat out of the oven
Removable door plate allows for a thorough clean
Forced cooling system
Rated A for energy efficiency, kinder to the environment and your bills
Max temperature: 250°C
Max power: 2700W