Product Information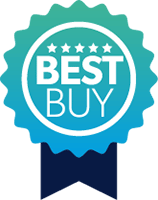 Best Buy
By collaborating with some of the world's greatest brands, we've created specialist Best Buy collections across our most popular product ranges. We will keep them updated, to bring you the best choice, the best price and the best products. And that's a promise.
What stands out
Split the cooler into red and white zones, or fill with one, the choice is yours
With space for up to 51 (75cl) bottles, there's room for your full collection
Cool blue LED lighting allows you to showcase your collection in style
Special UV filter glass protects your wine from harmful sunlight
A slim, seamless stainless steel frame adds a touch of class into any kitchen
Build it into your kitchen units or use as a freestanding appliance
The details
Whether you're a wine enthusiast or someone who enjoys an occasional glass at the weekend, storing wine in the correct conditions is key, and the electriQ wine cooler provides the perfect place.
With enough space to store up to 51 average-sized 75cl bottles, it is the ideal place to keep those ageing vintages alongside your everyday supermarket options. It features full dual-zone technology, which means you can adjust the temperature in each zone individually from 5-22°C to suit either red or white wine, allowing you to fill the cooler with one type or a mix. In many dual zone wine coolers, the temperature in the bottom must be same or higher than the top zone, limiting the storage capabilities. This cooler is different, allowing you to store wine any way you want. A clear, LED display and touch control panel makes it easy to adjust and to keep a check of the temperature inside.
Temperature isn't the only factor for keeping wine at its best and this cooler has got you covered. The door features a UV filtered glass that protects your bottles from the harmful effects of sunlight, keeping your wine fresh and ensuring your Pinot Grigios and Merlots remain in tip-top condition. There's even a humidity control system to prevent your corks from drying out.
The slimmest of stainless steel bevels with a black frame on a full glass panel adds a real touch of class that will easily sit alongside your other appliances and show your collection off in style. The door is reversible too, so it'll suit any kitchen layout without any problems when it comes to accessing your bottles, please note once the door is reversed it cannot be locked. A cool blue LED light helps to showcase your collection as well as making it easy to spot the bottle you're looking for.
Essential info
Dimensions: H 820 x W 595 x D 575mm
Temperature range: 5-22°C (individually set in each zone)
Capacity: 51 75cl bottles (approximately)
Shelves: 5
Finish: Black
Warranty: 1 year warranty
More info
Full dual zone – each cavity's temperature can be adjusted between 5 and 22°C
All shelves fit standard 75cl wine bottles – storing up to 51 bottles
Double glazed, toughened glass door to insulate your collection
Smoked, UV filter glass door protects your wine from harmful sunlight
Premium design with seamless door trim
Five quality wooden sliding shelves
Cool blue LED lighting showcases your collection
Easy-to-use digital touch controls
Active charcoal filter prevents wine contamination
Humidifier moistens air, providing optimum storage conditions
Under-counter or freestanding installation
Adjustable feet for the perfect fit