Product Information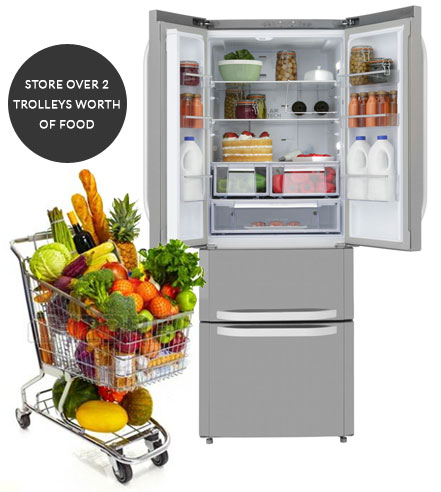 The Hotpoint Quadrio offers spacious storage with excellent organisation, ideal for the busy family home. The wide design and wealth of storage space makes it easy to store items which have previously been found awkward such as large cuts of meat, food platters and large birthday cakes. The stylish stainless steel finish and the American design will add an instant contemporary touch to your kitchen. Plus, whether you fill it with fish, meat, fruit or veggies, this Hotpoint fridge-freezer comes with Day 1 technology to create the right environment for your food, keeping it fresher for longer.
EASY STORAGE
With an impressive 402L of storage space the Hotpoint Quadrio fridge freezer easily stores just over two trolleys worth of food, more than enough space for your big shop.
The double door opening enables easy access to all the different areas within the fridge. There are plenty of storage options available to optimise your food storage. Two salad crisper drawers maintain the freshness of your fruit and veg, whilst a separate chiller compartment at a lower temperature is ideal for storing meat products. The doors have multiple balconies on offer for you to neatly organise all your bottles, jars and sauces, keeping them out the way and upright.
There are two spacious drawer compartments for the freezer with smooth opening for easy access. You'll never struggle to cram a drawer shut again.
OPTIMISED STORAGE
Frost free
You'll never have any trouble with icy build ups or frost covered packets as this fridge freezer is frost free.
Quick freeze
To preserve nutrients and freshness the freezer rapidly freezes newly added items. Perfect for when you've just done your big shop.
Air tech evolution
Maintaining a constant and uniform temperature throughout the fridge freezer with faster cooling than a traditional fridge freezer the Hotpoint Quadrio provides better food preservation, reducing waste.
Super cool
A boost of cold air drops food temperature from +70°C to +3°C in 30% less time, extending the life of fresh produce, providing day 1 freshness for up to 7 days.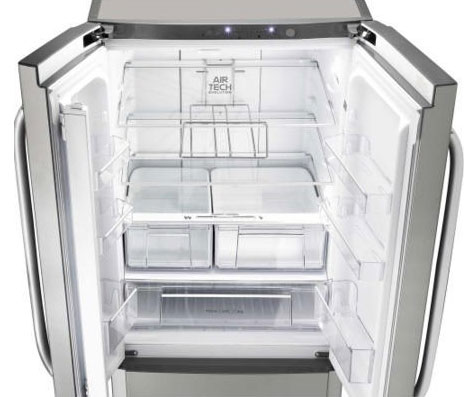 ENERGY EFFICIENT
Rated A+ for energy efficiency you can rest assured the Hotpoint Quadrio is an ideal investment for the home. The four doors of this fridge freezer enhance energy saving, opening the doors individually effects the interior temperature of the fridge less compared to traditional door designs, so the appliance won't have to work as hard to drop the temperature, therefore saving energy. On average it will cost you under £66.00 per year to run this appliance.
The Hotpoint Day 1 FFU4DX Fridge Freezer is not only a striking style icon in modern stainless steel but also an extra large sized family fridge freezer boasting a 402 litres of storage capacity giving you maximum flexibility as well as Precision Temperature Control which ensures cool air is distributed throughout the fridge cavity to create a constant temperature, keeping your food perfectly fresh for longer. Along with a Food Care Zone, perfect for preserving your fish and meat. Frost Free technology stops the build-up of ice, so you'll never need to defrost your appliance again. It works by keeping the perfect humidity level in your freezer and circulating fresh air around the compartment.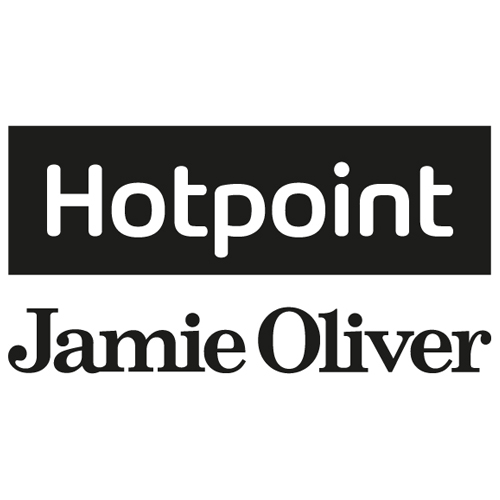 HOTPOINT & JAMIE OLIVER
"So you've filled your fridge with the big weekly shop… and just a couple of days later it's started to wilt and gone limp. Hotpoint are taking that pain away with their Day 1 technology, which creates the perfect environment for your food, to keep it fresher for longer." - Jamie Oliver
Pairing the very best of Jamie Oliver's home-cooking philosophy with Hotpoint's everyday, innovative products, our partnership is designed to help us all take care of the people we love through the joy of food. We believe our shared vision of eating well and developing easy-to-use appliances can shape the health and wellbeing of everyone.
Features:
Spacious, organised storage 402L
Air tech evolution system keeps food fresher for longer
Quick freeze, rapidly freezes newly added items
Frost free freezer, never manually defrost again
Temperature adjusts to protect food & save energy
3 Tempered glass adjustable fridge shelves
2 Fridge salad crisper drawers
Low temperature Chiller compartment
Anti-bacterial protection
2 Spacious freezer compartments
No frost cooling system
4 Star freezer rating
Twist and serve ice cube tray
Freezing capacity: 9kg/24hr
Required room temperature: 10-38 °C
4 Doors enhance energy efficiency
Magnetic doors for a more secure close
Power failure safe storage: 18hrs
Convenient holiday mode
Adjustable feet for a secure installation
Stylish stainless steel finish
Energy efficiency rating: A+
Annual energy consumption: 376.0kw
Annual energy cost: £65.76v
Fridge: 292L
Freezer: 110L
Noise level: 45dB
Dimensions: H195 x W70 x D78 cm
Packed dimensions: H201 x W75 x D80 cm
Weight: 102 kg
N.B. All large fridge freezers are doorstep or garage delivery only.
---