Product Information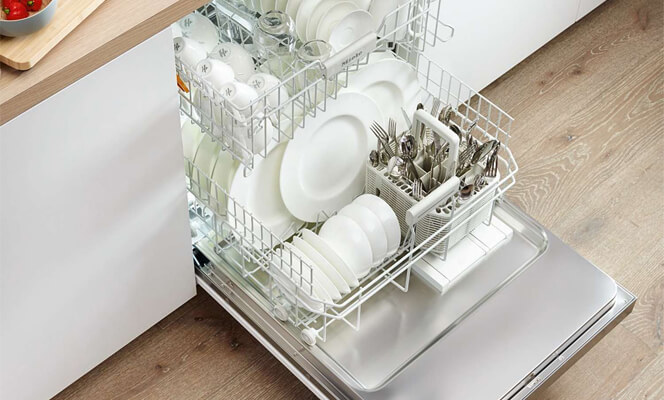 FEATURES:
- ENERGY EFFICIENCY CLASS A+
- VERSATILE BASKETS
- 13 PLACE SETTINGS
- 24 HOUR TIMER DELAY
- DRYING CLASS A
- COMFORT CLOSE DOOR
DIMENSIONS:
H80.5 x W60 x D57 cm
Load and unload dishes with ease thanks to the Miele dishwasher's versatile basket designs and ergonomic handles. Integrated the dishwasher will fit seamlessly into your kitchen. Miele products are engineered and tested to the equivalent of 20 years, so you can have peace of mind that this quality kitchen helper will last no matter how much you use it.
MAXIMUM VERSATILITY
With a highly versatile design and ergonomic basket handles loading and fitting dishes into the Miele dishwasher has been made easy. The cutlery basket easily slots anywhere on the lower basket, enabling you to easily fit large dishes around the cutlery basket.
The lower basket features a 'MultiComfort' area, this area makes it easy to arrange your larger dishes such as pans, chopping boards and serving plates. There are 9 possible positions to allow you to tailor the racks to your dishes needs.
The upper basket is height adjustable, enabling you to adjust the top basket to accommodate larger items placed in the lower basket.
With comfort close the door is easier to open and close, and will stay open at any position required.
24 HOUR DELAY
Equipped with a 24 hour delay function you can set the appliance to start at a time that best suits you. Ideal for setting the night before and returning from work to clean shiny dishes.
With a countdown timer you can easily keep track of your dishes, the LED display will let know exactly how long is left on the wash cycle.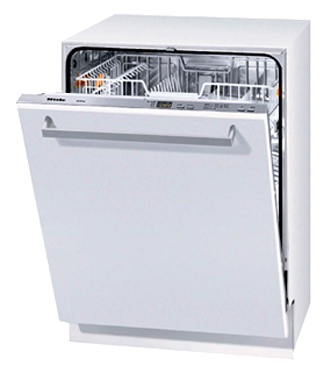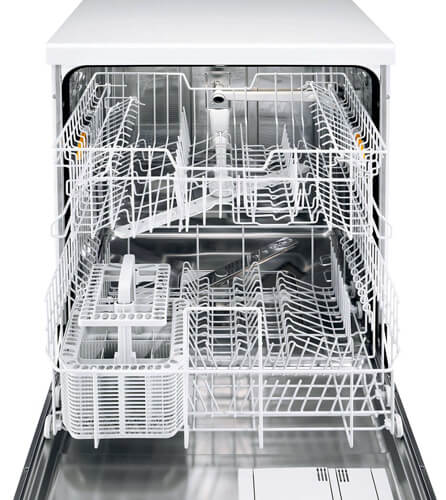 TAKING CARE OF THE DISHES
There are numerous programmes available to cater to each type of load. From 'Intensive 75°C' for maximum cleaning performance, ideal for cleaning residue from pots and pans, to 'gentle wash' which takes care of heat sensitive crockery that is only slightly dirty.
ENERGY EFFICIENT
Rated A+ for energy efficiency this dishwasher is economical and efficient whilst providing excellent cleaning results. Make use of cheaper night time energy rates as the dishwasher performs at only 48dB, so it won't disturb your household.
The Miele dishwasher also features ThermoSave, which works to save on electricity, time and money. ThermoSave allows a direct connection to the hot water supply. This will reduce energy consumption up to 50% and reduce wash times by 10%.
Features:
Very economical with EU energy efficiency class A+
Save up to 40% electricity with Thermo Save
Very easy door opening and closing with ComfortClose
Maximum versatility including Height-adjustable upper basket which ensures a hassle free dishwashing experience
Comfort basket design - The flexible lower basket and the innovative upper basket offer a wide range of functions
Fresh water dishwashers using as little as 6.5 L - The Sensor wash/Automatic programme cleans perfectly using as little as 6.5 litres water
Delay timer: 24-hour
Drying class: A
Water consumption in the ECO programme: 13.5 L
Power consumption in the ECO programme: 1.04 kWh
Annual water consumption in the ECO programme: 3.780 L
Annual power consumption in the ECO programme: 295 kWh
Water consumption in the sensor wash programme: 13.5 L
Consumption values with ThermoSave® in ECO programme: 0.58 kWh
Power consumption in stand-by mode: 0.20 W
---