Product Information
Bracket Type: Flat to wall bracket
TV Screen Size: 17 - 32 Inch
Load Capacity: 30Kg
Mount Dimensions: (W*H) 265mm x 224mm
Vesa Size: Any vesa up to 200mm x 200mm
Compatible with all TV brands including LG, Panasonic, Philips, Samsung and Sony.
This great value flat to wall bracket boasts a variable VESA mounting up to 200 x 200mm that's designed to be used with TVs measuring up to 32 inch. The built-in spirit level ensures easy level mounting. It includes all the screws to fit the bracket to your TV and the fittings to secure the wall bracket to the wall.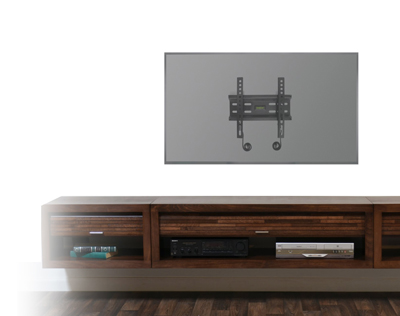 IS THIS BRACKET RIGHT FOR ME?

WHAT IS MY VESA?
First of all you'll want to know what the VESA size on your TV is. This information can usually be found on the manufactuers website or within the TV's user manual. Alternatively, if you've already purchased the TV, you can measure the VESA yourself on the back of the TV. Simply measure the distance (mm) between holes A-B and A-C and you're ready to go. You'll then want to choose a bracket that supports your TV's VESA.
BRACKET SIZE?
Once you've got your VESA measurements you'll then want to find out what the width and height of your TV screen is. After all, you don't want to waste time installing the bracket only to find out that it's clearly overhanging from behind the TV in full view. Ideally you want the TV bracket to be discreetly concealed out of the way. You'll therefore want to make sure you choose a bracket with smaller dimensions compared with the size of your TV screen.
Features:
Use code BRACKET50 at checkout for 50% off this bracket when bought with any TV!
Flat to Wall Mount
For TVs up to 32 Inch
Holds up to 30kg
Built-in Spirit level
Universal vesa fitting up to 200 x 200mm
Compatible with all TV brands including LG, Panasonic, Philips, Samsung and Sony.
1 Year Warranty

Download Instruction Manual


High
Quality
Manufactured in the same factories as the leading brands.

Great
Value
The UK's lowest prices with no compromise on quality.

Design and Technology
electriQ design high quality products using the latest techology.

Hundreds of Products
An extensive range of products from large appliances to gadgets.