Product Information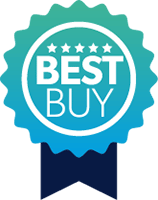 Best Buy
By collaborating with some of the world's greatest brands, we've created specialist Best Buy collections across our most popular product ranges. We will keep them updated, to bring you the best choice, the best price and the best products. And that's a promise.

Oven with a timer, pyrolytic cleaning & FlexiClip runners.
Rapid heat up with 1°C accuracy
When you're in a rush this programme heats the oven up extra quickly, achieving temperatures of 180 degrees in as little as four minutes. Furthermore you can enjoy complete accuracy too as this oven maintains the temperature you've set to within 1 degree so each dish is cooked to perfection.
Extra accessory pack: ExtraComfort Accessories
This model comes complete with 2 baking trays, 1 wire rack and 1 set of flexiclip runners as standard - perfect for the Sunday roast. The telescopic flexiclip runners hold baking trays in position and extend fully out of the cavity for better access which is great for turning, basting and checking meats and dishes.
Pyrolytic self-cleaning function
Once you're done cooking, Miele ovens can clean themselves. With the self-cleaning pyrolytic function the oven burns off any residue leaving the interior like new. Furthermore, Miele baking trays are coated in a patended PerfectClean non-stick coating so you can simply wash away food residue after use avoiding ardous scrubbing
76L Large capacity across 5 shelf levels
Miele ovens boast a market leading 76l capacity across 5 shelf levels, enough space for demanding cooks and perfect for batch baking thanks to Miele's even heat distribution
Built-to last: Tested for the equivalent of 20 years' use
All Miele appliances are tested for the equivalent of 20 years' use. To meet these high demands, one factory technician assembles the whole appliance from start to finish with their signature in ther serial number. It's this attention to detail that means a Miele product will last and give the same enduring performance day after day.
Dial Controls
The left dial is used to select the programme, and the right selects the temperature with on-screen prompts helping you make the right selection. Retractable, the dial controls are hidden when not in use for a clean design.
Key Features
Control the oven with the EasyControl 7-segment display with retractable controls
Minimal cleaning effort thanks to the Pyrolytic cleaning which heats the cavity to very high temperatures to turn all the grease and spits to ash
Lots of room and flexibility with the 76 litre cooking capacity on 5 levels
Easy handling of your dishes thanks to FlexiClip runners
Protection from burns with a cool front door
Always on time: programme the start time, finish time and duration of the cooking process or the minute minder
---