Product Information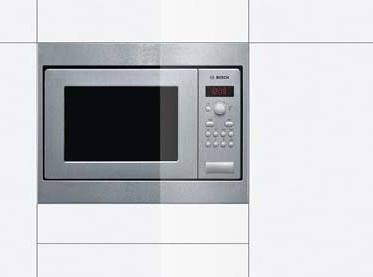 The built in microwave oven from Bosch is ready to make dinner time quick and convenient. Designed to be built into a kitchen cabinet, smaller than your standard microwave and with a brushed steel appearance, this microwave will blend perfectly with a compact kitchen layout whilst remaining ultimately functional.
Effortless integration into your kitchen
This microwave is a built in appliance, therefore it is designed to be installed in a 36.2cm high, 46cm wide tall cabinet unit at eye-level. Not only will this keep it out of the reach of children, but it is perfect for compact kitchens. The door is left-hinged to suit any kitchen layout. Please measure the dimensions carefully before ordering:
Niche dimensions: W 460 x D 30 x H 36.2-36.5 cm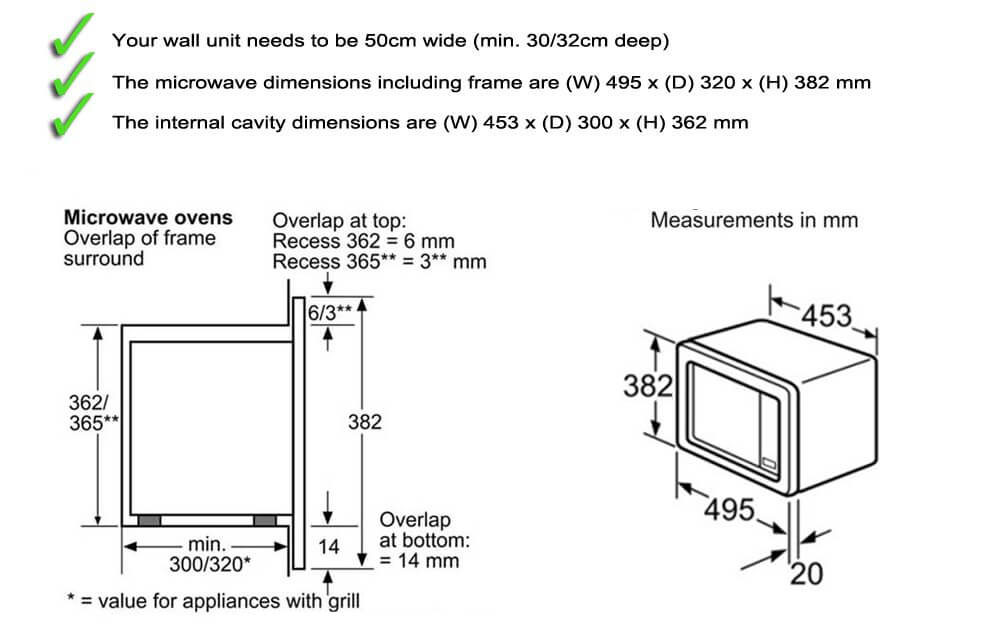 Capacity
With 17 litres capacity and a 245mm turntable diameter, this microwave is perfect for cooking a microwave meal or reheating that tub of leftover Chinese. The stainless steel interior makes it much easier to clean and protect those 17 litres against hot food and liquid splatters.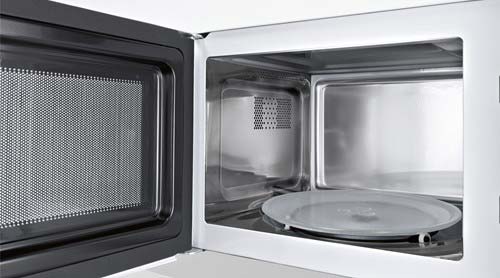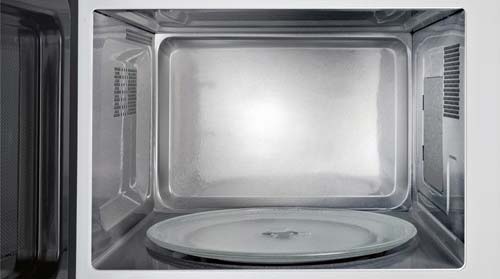 7 auto-cooking programmes for quick cooking
For days when you're in a hurry, this microwave comes with 7 auto-programmes for quick and convenient cooking. With 3 weight automatic cooking programmes and 4 weight automatic defrost programmes, this microwave will find the best time and power level for each individual dish.
If you cook or reheat the same dish frequently, the Bosch built in microwave has one 1 memory function so that you can save the cooking, reheating or defrosting settings for that dish so you can get cooking underway quicker.
Multiple power levels
The maximum power level for this Bosch microwave oven is 800W, but this can be adjusted to 4 other levels. This is useful when a microwave meal comes with one set of instructions or if a certain food doesn't need as much power:
800W, 600W, 360W, 180W, 90W
Easy and comfortable operation
The Bosch HMT75M551B comes with 1 retractable control dial and 11 rounded push button controls. Not only are these easy to clean but their smooth appearance gives the appliance a more streamlined appearance that will encourage it to integrate seamlessly into your kitchen.
The microwave oven also comes will a small electronic display with clock timer so you can keep an eye on the progress of the cooking.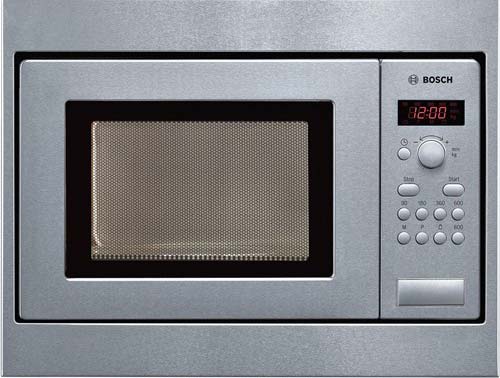 Features:
Built in microwave oven for 50CM WIDE CABINET
17 litre capacity
24.5cm Turntable diameter
Maximum 800W power level
7 auto-cooking programmes
Pop-out control dials