Product Information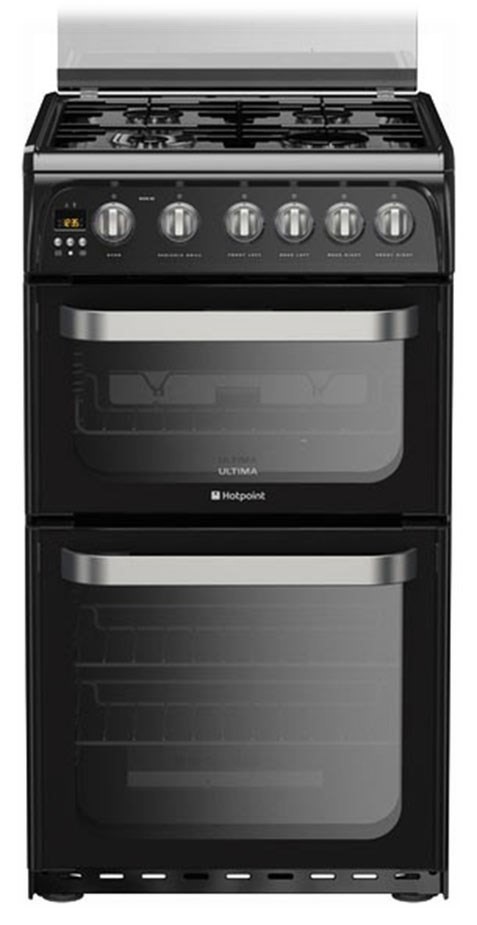 This Hotpoint double oven cooker comes in a black colour with silver controls and handles for a stylish and modern look. Using gas fuel for the hob, the two ovens and the grill, this double oven delivers a controllable heat source that is helped along by a zone gas oven that allows you to cook at different temperature in different areas.
This 50cm double gas cooker has a 60 litre capacity overall and is ideal for smaller households and kitchens that have limited space.
Dimensions: (D) 600mm x (W) 500mm x (H) 900mm
Controlled gas cooking
The 4 burner gas hob delivers controllable heat to your pots and pans so that you can get accurate cooking results. The gas burners come in 3 sizes which is ideal for cooking with variously sized pans for the normal family meal or a larger dinner party.
Gas hob safety features
Alongside the easy to activate automatic ignition that keeps your fingers away from the flame, the gas hob comes with a flame failure safety device to cut out the gas supply should the flame go out during cooking.
The glass lid acts as a handy splashback to keep your wall safe from cooking splatters and grease, and the controls are positioned at the front which saves you from reaching over hot pans on the hob to control the heat.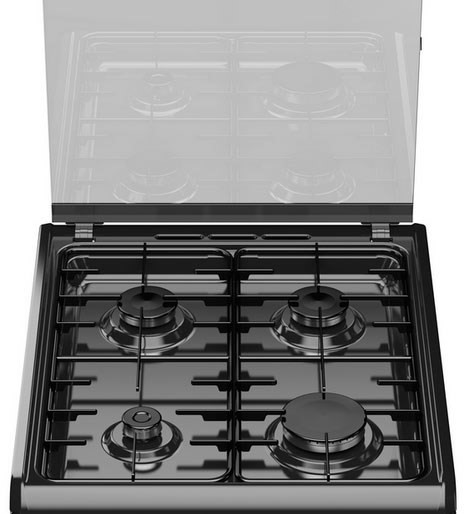 Main oven
With a 41 litre capacity, the main oven has two shelves which helps to optimise the space available and allows you to cook multiple dishes at the same time.
It also comes with a slow cook function that keeps the temperature in the oven at a constant low temperature for a longer period of time so that dishes such as meat and casseroles end up tender and succulent.
Top oven with variable grill
The top oven of this gas cooker doubles as an oven and a grill and has 19 litres of space. This top oven is a great extra space when cooking larger meals and the variable grill means that you can control the heat of the grill more precisely to finish off larger dishes or grill a small snack. A grill pan is included.
Double glazed oven doors
Both the oven doors of this gas cooker are double glazed so that more heat is kept in and the door is cooler to the touch. With an interior oven light making it easier to see how you cooking is doing without having to open the door, these double glazed doors offer a more eco-friendly way of cooking.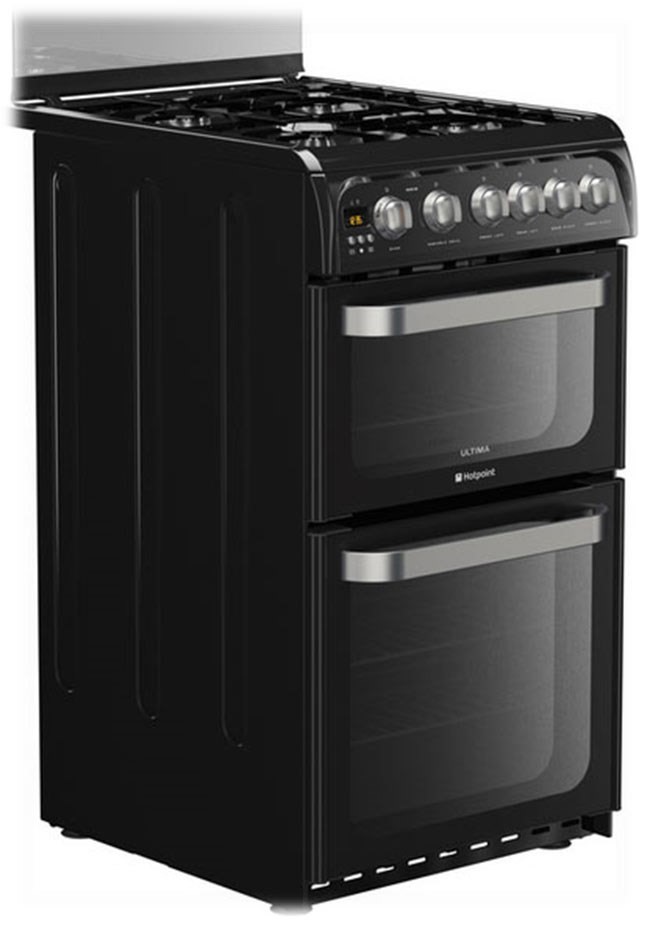 Clock and timer
The electronic clock with a digital display gives the oven a modern touch and it can also be used as a minute minder that will keep an eye on the cooking time for you so that you can get on with other tasks.
Easy to clean
Both ovens comes with stay clean catalytic liners which use the heat to break down food splatters, fat and grease so that you can just wipe the oven clean effortlessly.
The enamelled pan supports provide the ultimate stability for your pots and pans whilst on the hob and they are also easy to clean too, so that you spend less time scrubbing and more time simmering.
LPG convertible
Ideal for homes where natural gas isn't readily available, this gas cooker comes with LPG conversion jets that will allow you to run the cooker from a LPG tank. Not only is this more convenient for those who have already made the change to LPG but it's also a great option for those who want to be more eco-conscious with their gas bill.
Double oven gas cooker with grill
Double glazed door
Enamelled pan supports provide the ultimate stability for pots and pans
Electronic clock and minute minder - Great for busy families and multi-taskers
Stay clean catalytic liners - Helps save time having to clean the cooker
LPG convertible - Ideal for homes where natural gas isn't readily available
41 litre capacity and two shelves in the main oven allows you to cook multiple dishes at the same time
Easy to activate automatic ignition keeps fingers away from the flame for added safety