Product Information
What our experts think...

Lewis
Product Expert
This gas hob is so simple yet extremely efficient. Everything from lighting each burner to cleaning up afterwards is quick and easy, while the flame failure safety devices really help to put your mind at ease. On top of that, it looks great and fits in seamlessly with all your appliances.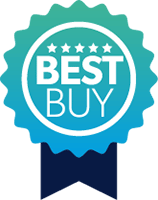 Best Buy
By collaborating with some of the world's greatest brands, we've created specialist Best Buy collections across our most popular product ranges. We will keep them updated, to bring you the best choice, the best price and the best products. And that's a promise.
What stands out
Spacious gas hob ideal for small to medium sized households
Four burners of varying size are perfect so you can use a wide range of pots and pans
Automatic ignition helps to make cooking even smoother – control the gas and ignition in one movement
Flame failure safety devices reduce any risk of danger should any of the burners go out
Removable pan supports and a smooth stainless steel surface make cleaning quick and easy
The details
This hob gives you the tools you need in the kitchen to help make tea time run more smoothly. It's the perfect size for a small to medium household, giving you plenty of space for your everyday needs and even to accommodate cooking for guests.
There are four burners of various sizes which each offer different sized cooking areas. By matching pan and burner sizes, you'll save energy and enjoy quicker results. There are two durable enamel pan supports that combine to cover the cooking area. Ensuring your pots and pans are stable, these can easily be lifted away to be thoroughly cleaned.
We don't want you to accidentally knock the gas on, that's why we've put the controls on the right side. Each burner has its own designated dial, so you can quickly and easily light and adjust them when you please. Simply push the dial down to open the flow of gas and, as you turn to set your desired flame height, your burner will light automatically with instant heat.
This gas hob includes safety features to make each use more pleasant and risk free. Flame failure safety devices monitor the status of each flame and if the flame is extinguished, it will block the flow of gas to prevent any unnecessary and dangerous flow.
Essential info
Number of burners: 4
Auto ignition: Yes
Flame failure safety devices: 4
LPG compatible: Yes/Supplied
Dimensions: H 95 x W 590 x D 500mm
Cut out dimensions: W 553 x D 473mm
More info
Easy-clean stainless steel surface and removable pan supports
Side controls with auto ignition
Flame failure safety devices
Durable enamel pan supports
Unbranded design
1 x Rapid 3.0kW burner
2 x Semi-rapid: 1.75kW burners
1 x Auxiliary: 1.0kW