Product Information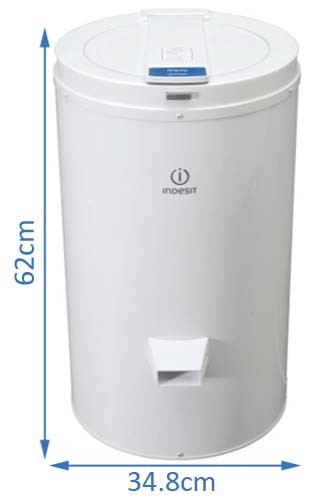 Dimensions:
H62 x W34.8 x D34.8cm
Space saving, spinning marvel
The Indesit ISDG428 spin dryer is ideal for smaller spaces, this neat spin dryer can plug in wherever required and with two carry handles you can easily move it around the home. With a 4kg capacity there's plenty of room for quick, regular spins. Those who do a lot of hand washing will really appreciate this convenient appliance.
The power of spin
This nifty appliance uses spin power only to take the moisture out of your garments, reaching speeds of up to 2800rpm, no heat is involved. The upright design uses gravity powered drainage, no fuss or need to vent out like your standard driers.
Easy and simple to use
Simply push the safety lid to release and drop your garments inside, push to close and let the drier do the work. There's also no need for plumbing with the Indesit ISDG428. Once the water is extracted it simply pours out of the spout on the front of the appliance.
Features:
Compact design
4kg Load capacity
Gravity powered drainage
Safety lid
Stainless steel drum
2800rpm
2 Carrying handles
e0.0216 kWh energy consumption per cycle
---