Product Information
The Miele induction hob is highly versatile, with four cooking zones in a variety of sizes for all your different cookware. Each of the four zones has 9 power levels. With rapid heat up you can get cooking sooner.
Automatic settings will adjust the high heat-up temperature of the zones accordingly for further cooking, preventing burnt recipes. With the keep warm function the hob intelligently monitors the temperature of your pans and maintains the perfect serving temperature, giving you time to work on the rest of your menu.
This stylish ceramic hob has some ideal safety features making it the perfect addition for the family home, lock it down and have peace of mind no wondering hands can access the hob.

SMOOTH & STYLISH
Featuring a sleek ceramic finish the Miele induction hob is super stylish and easy to clean. The contemporary design has a stainless steel all-round frame, finishing off the integrated fit into your work top beautifully.
The smooth ceramic surface is easy to wipe clean, even when in operation as the surface stays relatively cool to the touch, protecting against burns. Spills and splatters can easily be taken care of as hardly anything can burn to the ceramic surface.
EFFICIENT COOKING
The Miele KM6115 delivers efficient cooking. When cooking with induction no heat is lost or wasted, as heat is only generated where it is needed at the base of the pan.
The hob ensures the most efficient use of energy. Each cooking zone will detect the size of the pan used and only provide energy to this area.
REASSURINGLY SAFE
If a pan is placed on the hob and it is unsuitable for induction cooking or it isn't positioned correctly on the zone the hob won't supply any energy to the zone, preventing It from heating up.
Each zone has a residual heat indicator, enabling you to utilise the residual heat as well as keeping you safe from it.
A maximum operating time for each power level has been defined, if the hob detects the same power level has been operated for an unusual amount of time it will automatically switch-off, giving you peace of mind, just in case you did forget to switch the hob off.
A safety lock prevents inadvertent changes to the chosen power levels during cooking. The lock also protects from accidental or unauthorised switching on.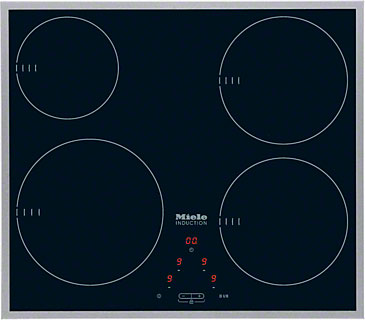 Features:
4 Cooking zones
9 Power levels per cooking zone
Stylish stainless steel all-round frame
Versatile cooking – multiple different sized zones
Easy clean black ceramic surface
Cooking zones detect the size of the pan for more efficient use
Keep warm function – intelligently monitors the temperature of the pan
No heat is lost when cooking with induction
Heat is generated only where it is needed at the base of the pan
Ceramic surface remains relatively cool to the touch
Individual settings – adapt the settings to your needs
Timer for precise cooking, 1-99 minutes
Auto switch off – If a pan is unsuitable or positioned incorrectly no energy will be supplied
Residual heat indicator
Auto switch-off – turns off zones after unusual heat and time is detected
Safety lock system
Overheating protection
Integrated cooling fan
Dimensions: W57.4 x W50.4 cm
Cut out dimensions: W56 x D49 cm
Zones:
Front left: 2.6/3.0/3.7 kW - 16-23 cm
Front right: 1.85/3.0 - 14-20 cm
Rear left: 1.4/2.2 - 10-16 cm
Rear right: 1.85/3.0 - 14-20 cm
---