Product Information
The Daewoo KOC8HAFR is a sophisticated 900W combination microwave and air fryer that provides you with 5 different cooking options in one quick appliance. With 24 litres capacity, versatile auto cooking programmes and a stainless steel cavity, this combi microwave is durable and smart.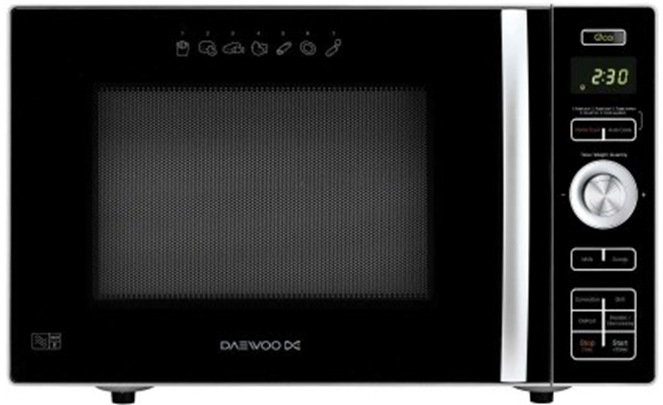 HOW WILL THIS LOOK IN MY KITCHEN?
This is a freestanding microwave oven, so you can position it in the most convenient place in your kitchen. With a turntable diameter of 250mm, the microwave can take a 10 inch dinner plate.
Dimensions: (H) 32cm x (W) 50cm x (D) 49cm
Cavity dimensions: (H) 23.2mm x (W) 31cm x (D) 32.8cm
COMBINATION MICROWAVE AND AIR FRYER
This black microwave is an air fryer, oven, grill, microwave or a combination of the functions, so you can choose the best method possible for cooking different dishes.
A powerful top heater ensures that the food crisps nicely to give you a variety of textures at mealtimes so you get the appearance and flavour of traditional frying and cooking but in a shorter space of time.
To make it easier to look after, this combination microwave comes with a steam clean feature to breakdown the food splatters that occur during cooking.
AIR FRYER
The air fryer function in the Daewoo combi microwave delivers healthy crisp food for a tasty alternative at dinner. The function is assisted by the included home fryer bowl that can cook up to 3 portions at a time, needing little to no oil to help fry the food.

POWER
Overall there are 10 power levels for the microwave, which is handy when foods only come with one set of microwave instructions for one power level. Each function has its own separate power level according to the cooking method:
900W power output
1400 power consumption
850W grill
1850W convection
2500W combination
TWO-WAY DEFROST
We often get uncertain when defrosting foods, but fortunately this combination microwave steps in to make it easier, with an intuitive two-way defrost that takes into account time and weight for accurate defrosting time.
EASY TO USE CONTROLS
The combination of touch controls and a dial, makes it easy to select programmes on the Daewoo KOC8HAFR. The LED lit display keeps you aware of how the food is progressing during cooking time and the Zero standby function means the unit does not consume any power when in standby mode, saving you a few pennies in the long run.
WHAT'S IN THE BOX?
User manual
Turntable plate
Warranty card
Bowl and accessories