Product Information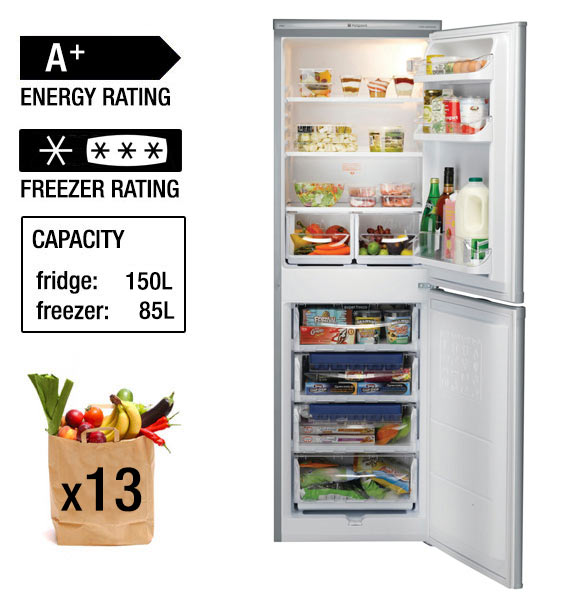 PLENTY OF STORAGE
The RFAA52S is a reliable, no-nonsense fridge freezer that's affordable to run and offers plenty of storage space for medium sized families. It boasts 235 litres of space within its narrow frame to ensure you've got plenty of room for your weekly shop without taking too much space in your kitchen.
Inside you'll find there's a place for pretty much everything. The two salad crispers are great for preserving your fruit and vegetables for longer, while the 2 glass shelves can be adjusted in height to make room for taller items. The three door balconies also provide room for things like bottles of milk and sauce jars.
ENERGY EFFICIENT
For the eco and cost conscious amongst us you'll be pleased to know that the RFAA52S comes with an 'A+' energy rating, so you can relax knowing that this fridge freezer is really cheap to run. In fact, it uses up to 25% less energy compared with an "A" energy rated fridge.
ANITBACTERIAL SEAL
The RFAA52S is equipped with anti-bacteria liners to keep the inside of your fridge hygienic, so no matter how your cooking turns out, you can be assured that the food has been carefully looked after beforehand!
REVERSIBLE DOORS
For added convenience, this model features reversible doors that can be fitted to open from left to right or right to left, allowing you to position it in any corner of the room.
4 STAR RATING
This 4 star rating freezer provides the ideal freezing conditions for fresh and pre-cooked foods. Anything less than a 4 star rating can only store pre-frozen food.
Key Features
2 salad crispers
4 freezer compartments
Super freeze
A+ energy rated
Full width bottle shelf
2 glass shelves
Reversible doors
Dimensions (cm):
Height: 174
Width: 54.5
Depth: 58