Product Information
This multifunction single oven from Smeg lives it to its name. With 8 functions, self-cleaning programmes, rapid pre-heating times all wrapped up in a stylish modern design, this pyrolitic oven is ideal for households who want smaller, space-saving appliances with a big attitude.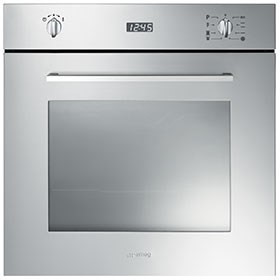 Capacity
The usable capacity of this single built-in oven is 72 litres which is more than enough to tackle the mid-week family meal. With 5 available cooking levels, you have the flexibility to move the shelves around in the oven to optimise the space to suit individual meals from larger roasts to a batch of cakes.
Design
Sporting the new style silver Cucina controls from Smeg, this built in oven will truly shine in a modern kitchen. With stainless steel from top to bottom and a stylish silver electronic display with child lock, this minimalist design reflects the ease of use of the oven.
Dimensions: (W) 597mm x (D) 548mm x (H) 588mm
Functions:
Circulaire with upper and lower elements: Designed to quickly and effectively cook your food, this function works similar to a rotisserie.


Circulaire cooking


Upper and lower element only: In this more traditional method of cooking, the top of the oven will always be hotter which makes it ideal for roasts and bread.


Fan with grill element


Grill: with the Safe cook feature, you can have the door closed whilst grilling.


Eco: This function allows you to restrict the power limit of the appliance.


Pyrolitic: Reaching a powerful temperature of 500°C, this cleaning function destroys all food splatters inside the oven for you to simply sweep away as ashes at the bottom. This function can be set to go for 1.5 to 3 hours.


Eco pyrolitic: This programme is perfect for a lighter build-up of dirt in the oven

Cleaning
Alongside the pyrolitic cleaning function, this single built in oven provides many other ways to make cleaning easy. The quadruple glazed glass from the inner door is removable so you can wash it thoroughly from the convenience of the sink as well as all of the chrome rails.
If the oven isn't dirty enough to use the pyrolitic oven and you just want to give it a quick wipe over, the easy clean enamel interior makes cleaning the inside a breeze.
If you want to wipe the outside over, the Cooler touch door means you can give it a clean even when the oven is on because the outside never gets hot to the touch!
Standard Accessories
Extra deep tray (40 mm deep)
Grill mesh
Chrome shelf
Technical information
Nominal power: 3.0 kW
13 Amp Power Supply Required
Multifunction built-in single oven
Pyrolitic cleaning
72 litres capacity
8 functions
Eco settings
Easy to clean
Also includes Sabbath Mode - This allows you to adapt your appliance in accordance with religious beliefs. Click here to view all appliances with Sabbath Mode