Product Information
What our experts think...

Andy
Product Expert
I'm not really designed for the summer, so when there's any chance of a bit of sun you can normally find me inside trying to cool down. Thankfully, this trusty fan is perfect for me in the British summer! It's small enough to store out of the way when not needed, but perfectly formed to sit on my desk and keep me cool in a heatwave!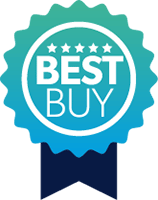 Best Buy
By collaborating with some of the world's greatest brands, we've created specialist Best Buy collections across our most popular product ranges. We will keep them updated, to bring you the best choice, the best price and the best products. And that's a promise.
What stands out
Choose from three fan speeds and the option to oscillate the airflow around your room
It's small enough to sit on your desk, standing the same height as a 2L bottle of pop
Super easy to control - simply twist the dial at the top to your preferred fan speed
It's ready to use straight out of the box and requires no permanent installation
The details
If you can't stand the heat, then get out this mini yet mighty tower fan. It measures roughly the same height as a 2L bottle of pop, which makes it perfect for personal use in smaller spaces like on an office desk or a bedside table. It's really easy to use thanks to the large control dial located at the top of the tower. You simply twist it to the fan speed you want, choosing to have the airflow aimed directly at you or rotating from side to side. There's a choice of three different fan speeds to keep you cool no matter how hot it gets, whether you're close to collapsing or just want a gentle cool breeze blowing on you while you sleep. It's ready to use straight out of the box and doesn't require any permanent installation. And, because it's slim and lightweight enough to carry, you can move it from room to room with ease.
Essential info
Cooling fan function
Easy to use dial control
3 fan speeds
Smooth oscillation function
Slim and small design
White finish
Dimensions: 128 x 116 x 332mm
Weight: 1.25Kg
More info
Air flow (at high speed): 3.54 m³/h
Power supply (V): 220-240
Rated current: 0.1A
Rated input: 20W
Cable length: 1.5m
Noise Level: 56dB(A)
12 Month hassle free warranty