Product Information
127 Litres.
Compact Design.
Energy Efficient.
Auto Defrost
Quiet Design.
Dimensions - Height (850mm)- Width (550mm)- Depth (580mm)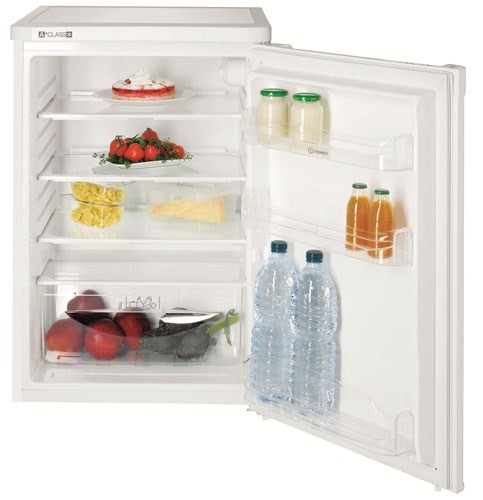 Clean and crisp, the Indesit under counter freestanding fridge is ideal choice for couples, single dwellers, and smaller families.
How will this fit in my kitchen?
This freestanding fridge is smaller than your standard fridge and is designed to fit under a work surface, so its measurements are small enough to be able for you to slide it under your kitchen countertop. Please measure your space carefully before buying:
The reversible door ensures that this fridge can fit in the most awkward and smallest of spaces, even right against a wall without the door having to scrape against it! And to round off the convenience of its build, the recessed handle makes sure that when space is tight you won't catch yourself on a sticking out handle.
Capacity:
But don't be deceived by its compact appearance! With 127 worth of usable storage, it's a small fridge with a large capacity!
Coming with 3 safety glass shelves, two of which that are adjustable to suit what you put in there: A large roast chicken or a dish of leftovers, there excellent shelving options allow you to get the most out of your fridge space!
It even comes with some added bonuses to protect the more delicate foods such as an egg holder and a salad crisper, preventing any nasty accidents like a squashed tomato or egg!
Energy Efficient:
With an energy efficiency rating of A+ you find that there is a huge amount to recommend the Indesit under counter freestanding fridge: It's compact, versatile, space-saving and energy-saving. Costing approximately only £20 a year to run, this little fridge is a hidden gem!
Features:
127 Litres capacity
Compact design
Freestanding
3 safety glass fridge shelves (2 Adjustable)
Energy efficiency rating: A+
Reversible door
Integrated handle
Full width salad crisper
Egg tray
---