Belling has been at the heart of British cooking for more than a century and are proud to say that four generations of cooks have grown up with a Belling appliance in their kitchens. In fact, Her Majesty the Queen and Princess Margaret both learnt to cook on one of their iconic Baby Bellings.

Today, Belling are proud to be part of the only major cooking appliance manufacturer still producing in the UK, making uniquely British products for British cooks. Their products are made with painstaking attention to detail right here, in the UK. Small teams of craftsmen work solely on just one product, carefully assembling each and every appliance from the ground up, by hand.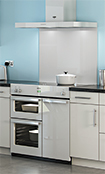 Belling might be over 100, but they are certainly not stuck in their ways. In fact, they regularly lead the way in cooking innovation. They design products to become family favourites, combining designer styling, world-leading technology and energy efficiency with the quality build and reliability you should expect from the Belling brand.

Belling proudly holds the Queen's Award for Enterprise in the international trade category. The Queen's Awards for Enterprise are one the UK's most prestigious accolades for business performance, and the award recognises Belling's outstanding performance in growing sales of its British-made products overseas.