Product Information

This is a graded product. A2 products may have minor visible dents & scuffs. All products are tested and are in good working order.
GRADE A2 - Door and lower plinth appear ever so slightly out of alignment.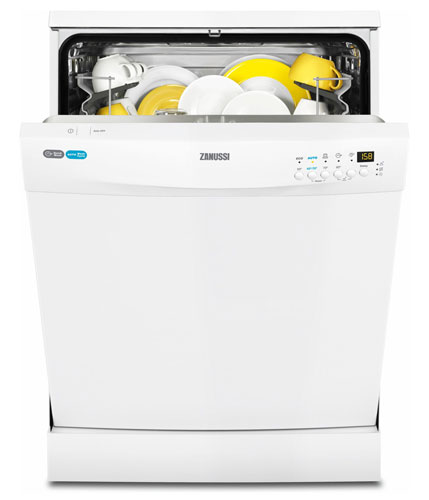 The Zanussi Fuzzy Logic Freestanding dishwasher brings convenience to the kitchen with its flexible, modern design. Equipped with 5 programmes including a quick wash and an intensive programme you're sure to find one to suit your dishwashing needs.
With a modern and stylish design the Zanussi ZDF26001WA will fit into your kitchen beautifully. The exterior features LED indicators with electronic easy to use controls. There's even a countdown indicator so you can keep an eye on the progress of your dishes.

Dinner for 13
The Zanussi Fuzzy Logic Freestanding dishwasher is ideal for large families or those who love to entertain. This spacious dishwasher with flexible baskets makes it easy for you to fit up to 13 place settings inside as well as all your crockery and cutlery for a sparkling clean.

Eliminate the guess work
Accessing every load size the Zanussi ZDF26001WA eliminates any guess work. The dishwasher adjusts the temperature, time and water level to suit each wash, saving on energy use at the same time.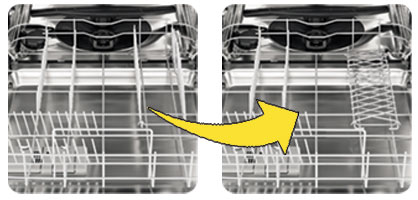 Ultra-clean
Helping protect your family, the Zanussi ZDF26001WA ensures your kitchenware is 99.99% bacteria free. The 70°C intensive care programme takes care of even the dirtiest pots and pans, finishing with and increased temperature for the final rinse.

Dishes at the ready
With the Zanussi's quick wash programme you can have clean dishes in as little as 30 minutes! Washing at 60°C there's no compromise on quality. Ideal if you've forgot to set the dishwasher off in advance or if you're desperate for specific kitchenware.

Wash when it suits you
There's no limits to when you can wash up. With a 24 hour delay timer you can set the dishwasher off when it suits you. Wash in the middle of the night to wake up to clean dishes for the morning.

Energy saving
Featuring an automatic switch off function the dishwasher will turn its self-off soon after the cycle has ended to save on your energy bills. Rated A+ the Zanussi ZDF26001WA is highly energy efficient, being kinder to the environment and your bills.
Features:
Flexible baskets – Enough Capacity for 13 place settings
Auto Programme for uncomplicated dishwashing
Intensive Care Programme at 70°C for Maximum Hygiene
Auto switch-off for effortless energy saving
Delay Start Function (up to 24 hours)
Time Remaining Indicator
Display Type: LED
Number of Wash Temperatures: 4
Number of Wash Programmes: 5
Cleaning Performance: A
Drying Performance: A
Capacity: 13 Place Settings
Anti-Flood Devices
Cutlery Basket Included
Residual Heat Drying Method
Rinse and Salt Aid Indicators
Dimensions: H850mm x W600mm x D625mm