Product Information
This is a graded product. A3 products have moderate exterior damage. All products are tested and are in good working order.
GRADE A3
MAXIMUM PERFORMANCE. MINIMUM SPACE
The electriQ Compact is one of the quietest, most compact portable air conditioners on the market today. It measures in at a mere 51cm in height which makes it smaller than a standard airline cabin bag. In fact, it's 30% smaller than other portable air conditioners in its class.
For what the compact air conditioner lacks in stature, it makes up for it in performance. This mini yet mighty air conditioner is designed to deliver impressive cooling for small to medium sized areas up to 20 sqm. The compact air conditioner is perfectly sized to sit discreetly out of the way under a desk or in the corner of a room.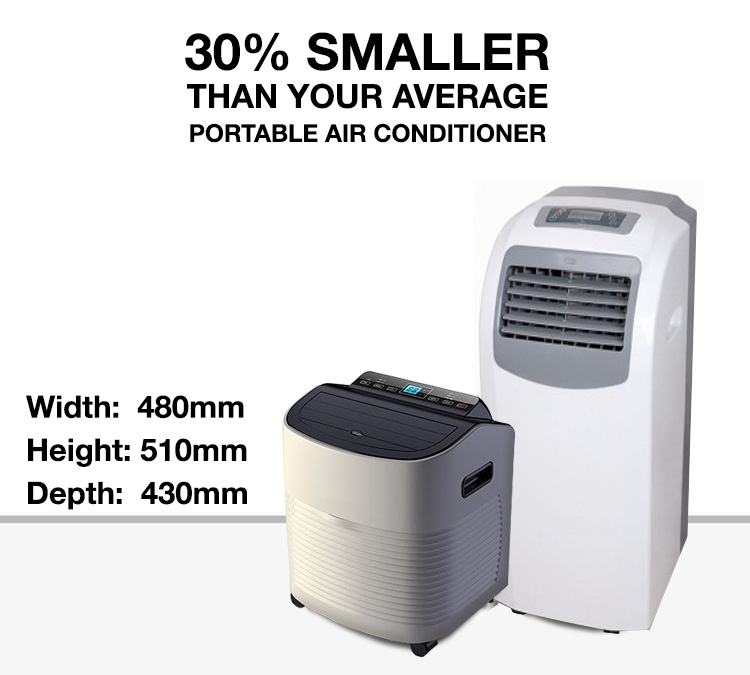 Air Conditioner
Stay cool and comfortable no matter the weather - this small air conditioner boasts an impressive cooling capacity of 9,000 BTU which is more than enough to cool rooms up to 20 sqm.
Fan mode
Great for small rooms, caravans, boats or where space is limited, the cooling fan function is perfect when you need to cool a small part of your room - ideal for when you're on your own or don't want to waste time and money cooling unnecessary areas.
Dehumidifier
With the ability to extract up to 30 litres a day, the powerful dehumidifier setting can help prevent health problems that result from condensation, mould and damp. This model boasts a self-evaporative system which reduces the need to empty the water tank because most of the water is reused to cool the condenser coils while any excess is simply evaporated.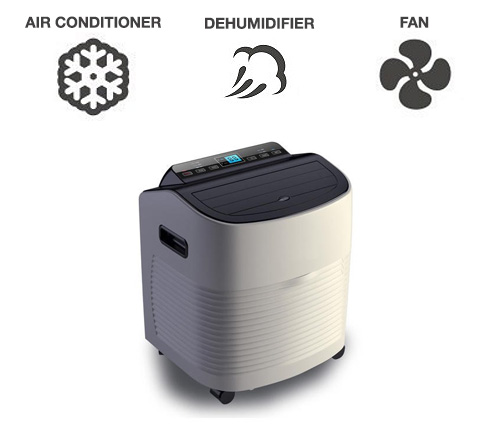 This portable unit comes with an advanced LCD remote control, integrated side handles and durable castor wheels for easy maneuverability. The digital control panel allows for quick and easy operation of the air conditioner's multiple functions including fan speed, timer and temperature settings. For added peace of mind, this compact air conditioner offers an impressive energy efficient A rating as well as a child Lock function to prevent any unauthorised changes to the controller settings.
Please Note: Stock of this Air Conditioner often sells out fast due to the low price and small size, so we advise that you order as quickly as possible to make sure you don't miss out.
Why this air conditioner is right for you:
Small and Lightweight
Compact and portable
Powerful and fast air distribution
Anti-freezing protection
Full tank indicator
Compressor delay-protection
Self-evaporative system-no external water tank needed
Cooling and Dehumidifying
Ideal for small sized rooms up to 20 sqm (cca 230 sqft)
0-24 hours start / stop timer
Low power consumption
This air conditioner is packed full of features:
Highly portable compact air conditioner
Dehumidification function
Automatic condensate removal - no water tank needed
Louvers outlet closes automatically when shutting down the unit, this prevents dust and dirt entering the machine
Clear LCD Display
Advanced LCD remote control
Side handles and Castors for easy movement
Increased safety with child lock function
Technical Information:
Rated Voltage - frequency: 220-240/50
Max Cooling capacity (35°, 80%): 9,000BTU
Cooling capacity (EN14511): 2.6kW
Input power: 1.05KW
Air flow (max-min): 350 m3/h
Max dehumidifying: 24l/24h
Noise level (min-max) at 1 m: 50-55 dB(A)
Compressor: Rotary
Refrigerant gas: R410A
EER at 35°C: 2.61
0-24 hour timer
Quiet 3-speed turbo fan
4-mode settings consists of Cooling , Fan ,Dry (dehumidifier) and Auto-mode
Energy rating: A
HFC Free environmentally friendly air conditioner with Zero Ozone Depletion Potential
Included in the box:
1.5m Hose
Fishtail adapter - to vent hose through an open window
Multi-function remote control
Dimensions:
W x H x D: 480 x 510 x 430mm
Weight: 27Kg
Hose Length: 1.5m

Please Note: All portable air conditioners must be vented out so the heat is removed from the room that is being cooled. The ideal solution is to vent them through a wall or window. For your convenience this air conditioner is supplied with a hose and a window venting kit so you can start using it straight away! The provided kit is designed to be installed with sliding or sash windows but is not ideal for other window types. However the provided fishtail adapter can be used with most windows or doors. During cooling, the fishtail reducer ensure that the opening is as small as possible. For even better cooling we provide an optional universal window seal at checkout.