Product Information
Designed to offer something special, the Hotpoint Aqualtis is the perfect home addition for larger households. With an impressive 11kg drum capacity you're washing pile will go down a breeze and you can even wash a heavy king size duvet at home. This washer brings with it some beneficial programmes for your household, such as the steam hygiene cycle for a deep clean, anti-allergy for the more sensitive members of the family and anti-stain, removing 20 of the most stubborn stains.
SUPERIOR DESIGN
The stylish, ultra-modern design of the Hotpoint Aqualtis in polar white features a premium iScreen display, essential programme information is provided whilst being very easy to use. The Aqualtis ensures constant temperature thanks to fibreglass insulation. And with a larger porthole at 34cm diameter the machine is easier to load and unload. Soft cascade lifters inside the drum carefully rotate your clothes, designed to pamper garments.
The washing machines noise levels have been dramatically reduces compared to other models thanks to special sound insulating panels and an advanced brushless motor, Hotpoints quietest wash ever. There's no disturbance when washing, you could even wash at night.
With a quiet self-cleaning pump and a titanium heating element that's lime scale proof the Aqualtis takes care of its self, ensuring it washes to the best of its ability every time.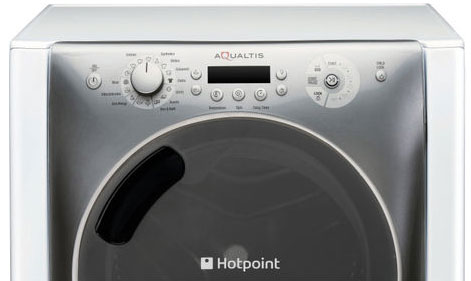 CARED FOR LAUNDRY
The Hotpoint Aqualtis is equipped with 16 programmes to take care of your household and all their washing needs. If you have small children who get into everything the anti-stain cycle could come in very useful. If you have members of the family suffering from allergies the anti-allergy cycle can help to neutralise the causes and if you have a newborn baby and the washing pile seems endless the baby cycle can have your baby essentials washed in no time.

ANTI-STAIN
Removing 20 of the most stubborn stains and with Hydro thermal technology the Hotpoint Aqualtis guarantees the best washing performance whilst ensuring colours are kept vibrant and whites are crisp.
STEAM TECHNOLOGY
Steam hygiene adds an extra period of steam at the end of a full wash cycle for a deep intensive clean.
BABY CYCLE
Specially designed to wash bulky loads of bedding and towels efficiently in just under two hours with great cleaning performance.
ANTI-ALLERGY
Allergy UK approved to care for sensitive skin. Hotpoint's anti-allergy programme uses a combination of high temperature technology and extra rinses to neutralise and remove 99.9% of major allergens, including dust mites and pollen.
WOOLMARK PLATINUM CARE
Certified soft and gentle care for woollens. Keep your woollies as good as new with this delicate wash. Using extra gentle drum action and a low spin speed the machine stops garments rubbing together and keeps them looking their best for longer.
WASHING CONTROL
This premium washing machine has variable temperature and spin speed with a maximum spin speed of 1400rpm. Take control and adjust the programmes temperatures and speeds to suit your laundry.
With a 24hour timer delay you can set the machine to begin washing when it best suits you. Wash when you're at work and come home to clean laundry or wash at night to easily get through the ever increasing washing pile.
ENERGY EFFICIENT
The Hotpoint Aqualtis not only guarantees excellent washing performance but it also ensures energy efficiency. The washers EcoCycles are specially programmed for superb results on cottons, synthetics and fast wash cycles without wasting heat and energy. Save up to 70% in energy with the EcoCycles.
The Hotpoint Aqualtis has been awarded the EcoTech icon, standing for the ultimate in energy saving. High performance, low energy, rated A+++ for energy efficiency.
Features:
11 kg load capacity
Energy efficiency class: A+++
1400rpm maximum spin speed
Digital display including time to end
Variable temperature & spin speed
20-minute quick wash
24-hour delay timer
Anti-Allergy cycle
Colour Care cycles: White, Coloureds, Darks
Ultra Delicate cycle
Platinum Star Wool cycle
Steam refresh cycle
Bed and bath cycle, Duvet cycle
Eco Wash function
Steam hygiene option
Time Saver option, Easy Iron option, child lock
Number of wash programmes: 16
Dimensions: H85 x W59.5 x D64.5 cm
---