Product Information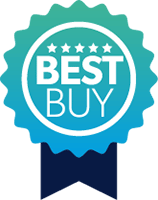 Best Buy
By collaborating with some of the world's greatest brands, we've created specialist Best Buy collections across our most popular product ranges. We will keep them updated, to bring you the best choice, the best price and the best products. And that's a promise.
What stands out
Spacious overall capacity of 105L is ideal for cooking numerous dishes together
Fan, conventional and grill cooking gives plenty of possibilities when preparing different dishes
The five burner gas hob is ideal for pots and pans of all sizes
Stunning stainless steel design looks really impressive in any kitchen style
Vapour Clean, enamel interior lining and removable pan supports make it really easy to keep clean
The details
If you're looking for a cooker than doesn't scrimp on space, but you can't decide whether to go for gas or electric, then why not go for both? This Smeg Cucina Range Cooker offers everything you need, without having to settle. Featuring two spacious electric oven cavities that offer 105L of usable space overall as well as a spacious five burner gas hob, cooking even the biggest of meals has never been so easy.
The main oven is perfect for preparing a Sunday roast. Providing you with an impressive 70L of space alone, you can enjoy even results through its fan cooking technology as well as a grill that also offers a half grill function for those smaller items. The second oven is great for smaller items. It has 35L of usable space with conventional cooking capabilities and an integrated grill. Perfect for cooking sides to accompany a bigger meal or simply to prepare something for lunch while the main oven is in use, you'll wonder how you managed with a single oven!
On top there's the five burner gas hob which is extremely spacious and perfect for cooking with a wide range of sized pots and pans together. With cast iron pan supports, you've got a stable base to stand your cookware while also being easy to remove for a thorough clean.
All controlled using traditional inspired dial controls, you can accurately and easily adjust the oven's temperature and each burner's flame height.
Essential info
Energy Class: A
Dimensions: H 945-975 x W 898 x D 600mm
Hob
Cooking method: Gas
Burners: 5
Central Burners: Ultra rapid 3.5kW
Front Left Burners: Rapid 3kW
Rear Left Burners: 1.8kW
Front Right Burners: 1kW
Rear Right Burners: 1.75kW
Main oven
Cooking method: Electric
Capacity: 70L
Fan assisted
Grill
Second oven
Cooking method: Electric
Capacity: 35L
Conventional oven
Grill
More info
Dual fuel cooker
Stainless steel finish
Modern design
Grill in each oven
Cast iron pan supports
Removable inner door glass
Traditional dial controls
Vapour Clean technology
Easy-clean enamel interior lining