Product Information
Stylish and practical, this stainless steel chimney cooker hood from CDA is ideal for extracted unwanted cooking odours and fumes from small to medium sized kitchens. With a striking and functional curved glass canopy that helps capture airborne grease and steam, this wall-mounted extractor has a powerful extraction rate that can be adjusted by tasteful push button controls.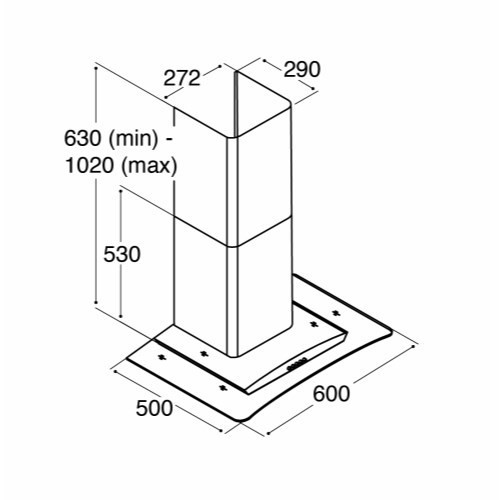 How does this fit into my kitchen?
Measuring 60cm wide, the CDA ECP62SS is ideal for installation above a 60cm hob. Unlike Island cooker hoods that are fixed to the ceiling, this chimney cooked hood needs to be fitted against a wall:
Dimensions: (H): 630-1020mm x (W): 600mm x (D): 500mm
It also comes with a telescopic section that can extend up or down to make the correct distance between the hob and the hood.
There must be at least a 700mm distance between the hood and a gas hob and 600mm distance between the hood and an electric hob (this includes Induction hobs).
If you are unsure about the differences between various cooker hoods or which one will best suit installation in your kitchen, then take a look at our comprehensive Cooker Hoods Buying Guide to help you decide.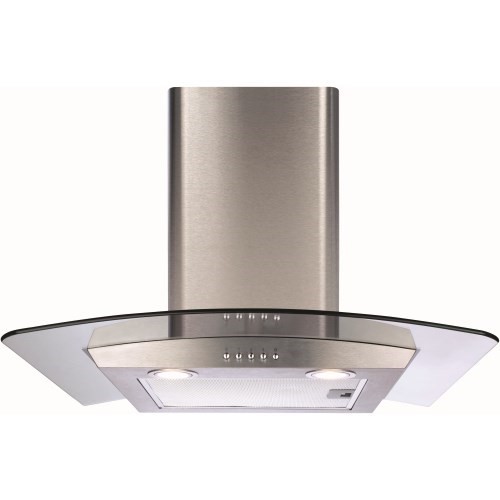 Powerful motor
This CDA chimney hood has a maximum extraction rate of 391 m³/hr, which is ideal for small to medium sized kitchens up to 62 cubic metres.
With 3 speeds to choose from, you can set the extraction rate to a level that best suits the dish you are cooking. It's also useful to have lower speeds that run quieter for when you sit down to dinner.
Suitable for ducted and recirculated extraction
Depending on the layout of your kitchen, it may be easier to recirculate the air rather than duct it out, which is why CDA have designed this cooker hood to be suitable for both operations.
If you are choosing to re-circulate you'll need a charcoal filter and if you're ducting out you'll need a ducting kit.
Aluminium grease filters
The aluminium grease filters can be found on the bottom of the chimney hood and are designed to capture grease that's found in cooking fumes. They will need cleaning at least once a month, depending on how much you use the cooker hood, which is made easier by the filters being dishwasher safe.
Key Features:
60cm curved glass chimney hood
Powerful motor with 3 speeds
Dishwasher safe aluminium grease filters
Suitable for ducted and recirculated extraction
Extraction rate: 500 m³/hr
Technical Specifications
Outlet diameter: 150 mm
Noise level: 60 dB(A)
2 x 20 W halogen lights
Extraction rate: 391 m³/hr
Rated electrical power: 100 W
Power supply required: 3 amps