Product Information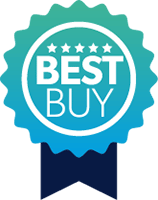 Best Buy
By collaborating with some of the world's greatest brands, we've created specialist Best Buy collections across our most popular product ranges. We will keep them updated, to bring you the best choice, the best price and the best products. And that's a promise.
What stands out
Weighing under 4kg it's super easy to transport and a heavy-duty zipper bag is included
It provides plenty of space to cook food for up to 5 people
It's ready to use in under 5 minutes as the charcoal is rapidly heated thanks to the built-in battery-powered fan
Smoke is consumed within so it's virtually smokeless, but food will still have that delicious chargrilled taste
It can hold up to 250g of charcoal to deliver up to 60 minutes of cooking
You can refill the charcoal at any time and it's protected from cooking fat and juices meaning no flare-ups!
Included pizza pan, produces Italian-style, perfectly crisp bases
For peace of mind, its double-layered construction keeps the outer bowl cool to touch
Arrives assembled. Just add batteries to power the built-in fan
The details
Neat and compact, weighing in at under 4kg, this nifty little grill is just the thing for the summer! For those with a small outdoor space or even a balcony, this compact grill will come in a treat! It's hassle-free, so no matter what size your space you no longer have to miss out on summer barbecuing at home. Take it camping, to a festival, on a picnic, or to the park, it's super easy to transport and it includes a heavy-duty zipper bag to keep it safe and tidy on the move. Don't be deceived by its size, it may be dinky but it provides plenty of space to satisfy up to four hungry diners.
This unit is very original in design meaning you will be able to achieve that mouth-watering chargrilled taste with virtually no smoke. The reason? The smoke is consumed within the BBQ, plus the charcoal is protected from food drips as it is contained in a holder in the centre of the unit, therefore preventing flare-ups and extra smoke. It's super easy to get started, the BBQ has a small ignition plate inside which sits below the separate charcoal container, you light this with lighter gel. The charcoal container can hold up to 250g of charcoal, giving you roughly an hour to cook up a storm, but you can easily refill the charcoal at any time if you want to carry on the party for longer.
The BBQ has its own battery-powered fan which blows air directly onto the charcoal, rapidly heating it, meaning you can start cooking in just a few minutes! There's a handy dial on the front of the BBQ to control the fan, so you can adjust the heat as you please. Keep it low for a slow sizzle or turn it up for a stronger charcoal taste. The BBQ's thin grid prevents food from sticking and your food won't sit in its own fat, it's all collected in a removable tray for easy cleaning. There's even an included pizza pan! Made from iron this circular tray neatly rests upon the BBQ for you to bake your pizza, delivering tasty, perfectly crisp results, just like an authentic Italian pizza.
With two handy latches on the sides every part of the BBQ securely fixes together to become one safer unit, so even if it accidentally gets knocked over your charcoal will stay put and there's no harm done, apart from the sandy sausages of course.
See the electriQ Portable Charcoal BBQ in action:
Essential info
Dimensions: W35 x D36.8 x H23.4 cm
Weight: 3.7kg
Fuel type: Charcoal
Power: x4 AA batteries (not included)
Charcoal capacity: 250g
Number of burners: 1
Warranty: 1 Year
Store indoors when not in use
Lotus style grill
What's in the box?
BBQ
Grid
Pizza pan
Heavy-duty zipper bag
Instruction manual