Product Information

A TOAST TO TASTE
If you're partial to a glass of wine then the CDA FWC303SS Freestanding wine cooler is for you. This sleek cabinet has been developed with a range of unique features to ensure your wine is at optimal temperature for maximum enjoyment. The five wooden shelves cater for up to 20 bottles of wine at once, while the LED interior light lets you find what you need and beautifully showcase the wine.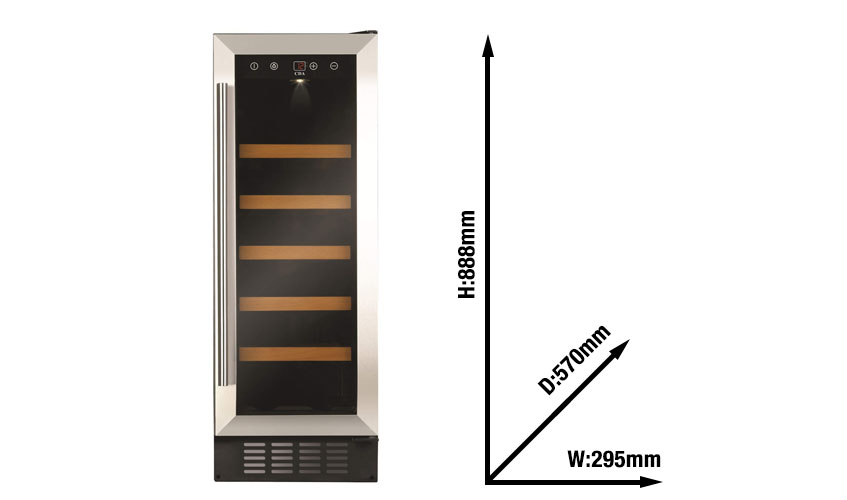 UV PROTECTED GLASS DOOR
The wine cooler is fitted with a UV protective toughened glass door to prevent sunlight from damaging your wine collection. The door is fully reversible so you can adjust it to suit your kitchen layout.
COOLING AND HUMIDITY
The electronic temperature control lets you set and adjust the temperature from +5°C to +22°C with minimum effort. The FWC303SS is also equipped with a humidity system to maintain cork integrity.
ULTRA QUIET AND ENERGY EFFICIENT
Measuring at a mere 43dB, this wine cooler is as quiet as a library, so you won't be won't be disturbed during your daily routine. Plus, it's pretty cheap to run too, costing you just under £2 a month thanks to its impressive A energy rating.
Key Features
Stainless steel
Red digital display
Single temperature storage zone
5 x wood slide out shelves
Electronic temperature control
UV protected smoked toughened glass door
Double glazed
Interior LED light
Height adjustable plinth section
Temperature memory function
Over temperature alarm
Humidifier
Right hinged door
Reversible door
Door opening angle: 180°
Energy
Energy rating: A
Energy consumption in a year: 139 kWh
Technical
Rated electrical power: 0.09 kW
Power supply required: 13 A
Noise level: 43 dB(A)
Total bottle storage: 20 x 75 cl Bordeaux bottles
Humidity control: 50-80% RH% RH
Compressor driven
Temperature range: 5-22°C% RH°C