Product Information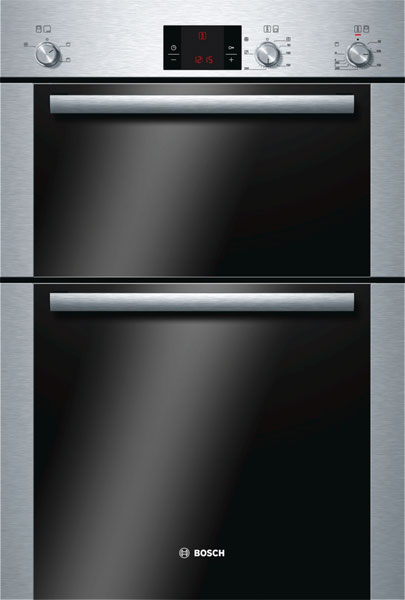 Enhance your cooking abilities and achieve bigger, better results whether you are baking cakes or preparing the Sunday roast with the Bosch HBM13B251B double electric oven.
Featuring both a fan assisted oven and a conventional oven and grill, this eye-level oven from Bosch takes the hard work out of cooking and baking and even lets you do them both at once.
Incredible Size
This is not only a double oven; it offers incredible amounts of space for you to get the job done. Perfect for larger families and those who enjoy entertaining, you can produce a number of dishes side-by-side so your full meal can cook and be ready together.
Main Oven
The main oven cavity has a huge 71-litre capacity, larger than many single ovens. This oven is fan assisted and features 3D Hot Air technology which means that, despite its incredible scale, the temperature throughout the main cavity is consistent so you know your dishes will cook evenly every time.
It takes much less time to warm up and, because the air is constantly moving, there is no flavour transfer. With three wide shelves, you can get everything for a good sized meal inside, without having to cook items earlier and keep them warm.
You can even change the way you defrost and be safe in the knowledge that meats and other items are thawed fully and ready to be cooked. The defrost function passes room temperature air around the item to defrost it naturally, but in a shorter period of time.

Top Oven
The top oven is a good size and is perfect for cooking small items for a quick lunch or snack as well as offering the ability to grill. If you're entertaining and there isn't enough room for everything in the main oven, the conventional cooking capabilities of the top oven mean it will get hotter so you can get those roast potatoes perfectly crisp every time.
Designed for Convenience
The Bosch HBM13B251B has been designed to combine convenience and style, making it the perfect addition to your kitchen.
A large LED display and touch sensitive controls help to make setting cooking start, end and duration timers easy.
The brushed stainless steel and black finish is easy to wipe clean and you can easily clean around the knobs by simply pushing them in. Inside the oven, cleaning is made simple thanks to the ecoClean® liners. They work by absorbing dirt and grease and when the oven reaches a certain temperature, this burns away into a fine ash for you to wipe away.
Features
Perfect for larger families and those who enjoy entertaining
Main oven cavity has a huge 71-litre capacity
3D Hot Air technology ensures the temperature throughout the main cavity is consistent
Speedy defrost function passes room temperature air around your dish to defrost it naturally
LED display and touch sensitive controls help to make timing your food easy
Cleaning is made simple thanks to the ecoClean® liners
Child lock to prevent any accidents
Energy rating A/B
3 Wire shelves included
Brushed steel and black finish
Retractable controls
Large LED display with touch sensitive timer controls
Child lock
Main Oven
3D Hot Air technology
Large viewing window
3 wire shelves
ecoClean® lining
Energy rating: A
Double glazed door
Top Oven
Conventional oven
Variable grill
Enamel pan and wire insert
ecoClean® lining
Energy rating: B
Double glazed door