Product Information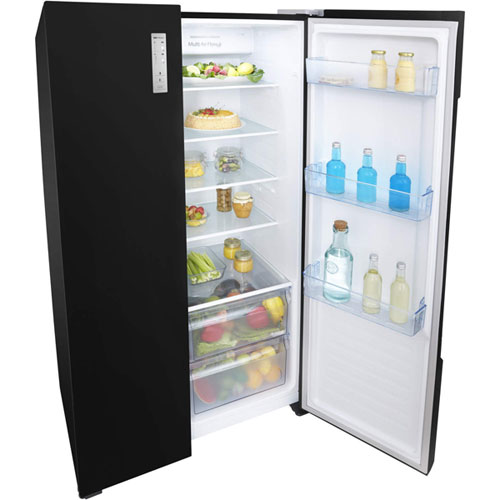 Store your fresh and frozen food efficiently and in style with the modern MS91518FFB Fridge Freezer from Fridgemaster.
With a spacious design, convenient features and sleek finish, this American style fridge freezer is the perfect addition to the kitchen for larger families and those who love to cook for guests.
BRILLIANT COOLING
Cool and freeze your food quickly and effectively, keeping it fresh, tasty and full if nutrients with the Super Cool and Super Freeze technology.
By delivering quick and stable cooling and freezing, the MS91518FFB helps to preserve your food for longer and ready to be used later on. Enjoy food as fresh as the day you bought it!

MULTI AIR FLOW
The Multi Air Flow system delivers a steady and even flow of air into every area of the fridge and freezer. Your food will quickly reach the ideal storage temperature, no matter which shelf it is on.
In the freezer, the Multi Air Flow system means air is constantly moving around your food, keeping it at a constant temperature. This also means that no ice or frost can develop so defrosting your freezer will become a thing of the past.
LESS WASTE
There's nothing more annoying than when the power cuts out and you are left with a fridge and freezer full of food that's starting to go off. This Fridgemaster keeps your food cool or frozen for an incredible 10 hours without any power – so you won't need to make another trip to the supermarket.
Features
Black finish
LED lighting
Wine/bottle rack
Frost free
Touch controls
Open door alarm
Holiday mode
Child lock
Adjustable feet
339L Fridge capacity
177L Freezer capacity
Dimensions:H 178.6 x W 91 x D 64.3 cm
N.B. All large fridge freezers are doorstep or garage delivery only.