Product Information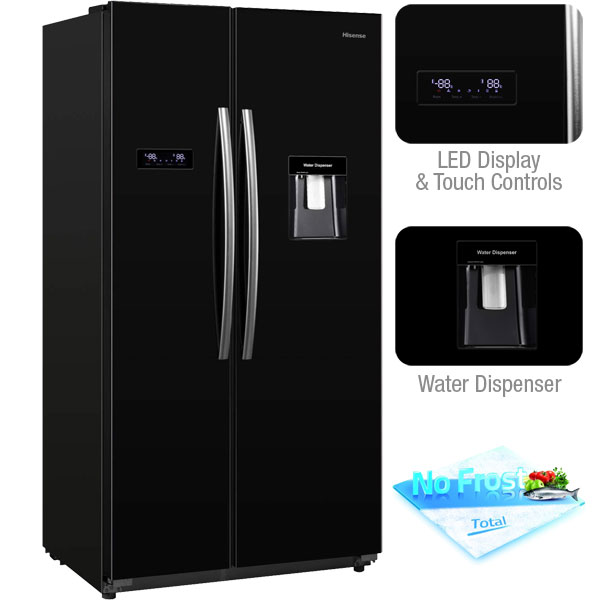 The Hisense RS723N4WB1 American Fridge Freezer delivers plenty of refrigeration and freezing space. Perfect for large families or anyone who loves to entertain, you'll easily fit 30 bags of shopping inside with room to spare!

SUPER COOL
This American style fridge freezer not only looks great, but it performs just as well. The Super Cool and Super Freeze functions are designed to keep your food tasting great, locking in flavours and nutrients.
They deliver quick and stable cooling and freezing to help you to preserve your produce for longer, ready to be used later on. Your food will stay as fresh as when you bought it.

CONSISTENT COOLING
Hisense's Multi Air Flow system produces steady and even cold air distribution throughout the fridge so your food will reach the ideal storage temperature quickly.
There's no need to worry about defrosting your freezer anymore, thanks to the incredible frost free technology. Ice crystals are unable to form on the surfaces, resulting in no build-up of frost.
GREAT WHEN YOU'RE NOT THERE
Save energy and keep your fridge fresh while you are away with Holiday Mode. This function sets your fridge to 15°C, helping to keep unperishable items fresh without using too much energy.
In this mode, the freezer remains at the same temperature so your frozen goods will be as good as new when you get back.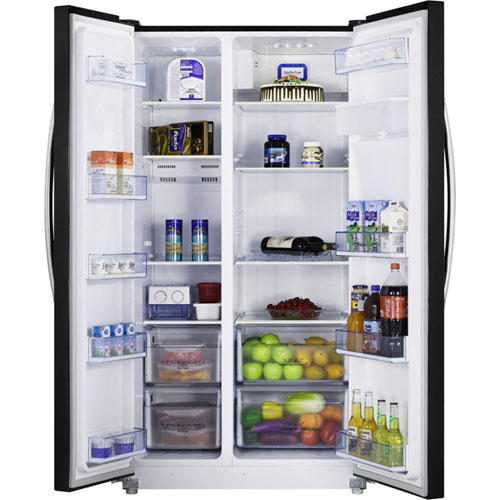 HANDY EXTRAS
This fridge freezer is not only convenient thanks to its cooling and freezing capabilities, it also offers a number of extras to help make your life easier.
The integrated water dispenser provides cool, refreshing water whenever you fancy a glass. It doesn't even need to be plumbed in, all you need to do is top the tank up every now and again!
If that water isn't cool enough for you, this Hisense also offers an intuitive ice making tray for your convenience. Fill the tray with water and leave to freeze. When your ice is ready, rotate the tray for all of the cubes to fall into the box below, ready to be used now or later.
Features
Black finish
A+ Energy rating
LED lighting
Twist ice maker
Water dispenser
Frost free
Digital control display
Electronic temperature control
Open door alarm
Holiday mode
Child lock
Adjustable feet
364L Fridge capacity
192L Freezer capacity
Dimensions: H 176.6 x W 91.2 x D 72.6 cm
N.B. All large fridge freezers are doorstep or garage delivery only.