Product Information

Cord-free. Hassle-free.
Powerful suction.1
Cleans and cleans for up to 40 minutes
A redesigned nickel-cobalt-aluminium battery provides up to 40 minutes of fade-free suction.1
For powerful, whole-home cleaning.

1Stated run time applies to powerful suction mode with non-motorised tool attached.
Gets everywhere that dirt does
Lightweight and versatile. So it's easy to clean up high, down low and everywhere in between.
Always to hand
The wall-mounted charging dock recharges your Dyson V8™ vacuum. So it's ready whenever you need it, and easy to store as soon as you've finished.
Drives dirt from carpets
The direct-drive cleaner head's motor pushes stiff nylon bristles into carpets to capture deep-down dirt.
The Dyson digital motor V8
Digital pulses switch the polarity of neodymium magnets, to spin the patented Dyson digital motor V8 at up to 110,000 rpm – five times faster than a Formula One car engine. Producing up to 115 Air Watts, it generates powerful suction on carpets and hard floors.
Patented 2 Tier Radical™ cyclones
15 small cyclones each generate powerful g-forces to fling dust into the bin. The post-motor filter is 1.5m of ePTFE porous membrane sandwiched between layers of PE/PET, folded 158 times to fit in a compact space. It's optimised to provide filtration with minimal pressure consumption, for more suction. So it captures microscopic dirt particles as small as 0.3 microns – almost 100 times smaller than the width of a human hair.
Redesigned battery chemistry
The six-cell lithium-ion battery has been engineered with nickel-cobalt-aluminium (NCA) chemistry. The NCA cathode offers high power capability, with the ability to store a high charge per unit volume and to discharge this energy quickly. Which gives the Dyson V8™ vacuum up to 40 minutes of fade-free power1 – double the run time of its predecessor.
Key Features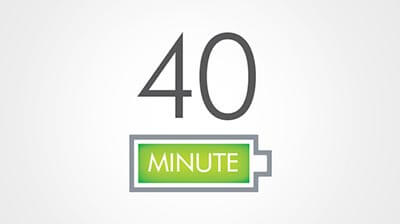 Up to 40 minutes of fade-free suction in Powerful mode1
Powerful suction for whole-home cleaning.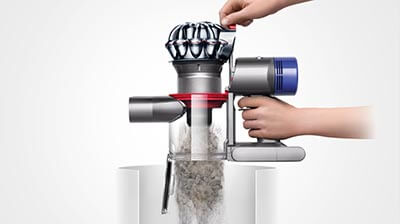 No-touch bin emptying
No need to touch the dirt - just pull the elver to release it into your bin.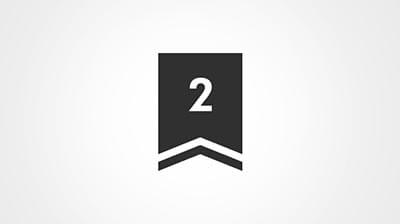 2 year guarantee
Free Dyson parts and labour. Replacement parts or repairs if something goes wrong during your guarantee period.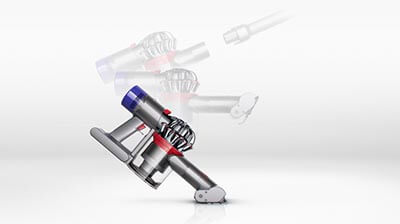 Quickly transforms to a handheld
The Dyson V8™ changes to a handheld vacuum and back again, in just one click.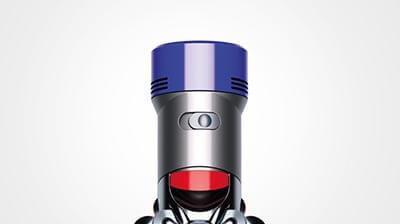 Two power modes
Switch between MAX mode for up to 7 minutes of high power, and Powerful mode for longer cleaning.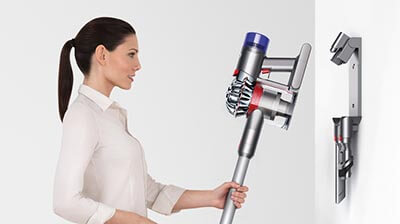 Drop-in docking
The Dyson Cyclone V8™ vacuum drops into the wall-mounted dock, to recharge it and tidily store tools. So it's ready to grab and go.
2 Stated runtime applies to powerful suction mode with a non-motorised tool attached.
Specially engineered for homes with pets, Dyson's V8ANIMAL+ offers a powerful cleaning performance. You'll even find an additional Flexi Crevice Tool with this model.
Thanks to its revolutionary lightweight design, the V8ANIMAL+transforms to clean up high, down low and everywhere in between. Powered by the digital motor V8, the direct-drive cleaner head sucks up pet hair and ground-in dirt from all floor types. It even delivers 150 % more brush bar power than its predecessor.
You can also use this cordless Dyson cleaner across all floor types, from carpet to laminate; you'll always get fantastic results. And, make the most of the whole machine filtration, which captures pet allergens, and expels air cleaner than the air you breathe.
Plus, the two different power levels give you the flexibility you need at home. Try the Powerful mode to enjoy 40 minutes of fade-free suction. Or, for those tougher tasks, try the MAX setting for seven minutes of powerful suction.
Key Features
41-minute run-time - suitable for larger homes
2.61 kg - very lightweight
Push-button bin emptying - for easy emptying
Mini motorised tool to help pick up pet hair and ground-in dirt
Free crevice tool
1-year warranty for peace of mind
Dimensions (mm): H1160 x W310 x D300
To help make your life that bit easier, Dyson has equipped the V8ANIMAL+ with a range of handy, innovative features. You can attach a range of hand tools, depending on the area you are cleaning:
Crevice nozzle
Upholstery brush
Dusting brush
Quick-release mini motorhead
Quick-release Flexi Crevice tool
The mini motorhead is ideal for tighter spaces, and the Crevice nozzle cleans precisely around narrow gaps and edges. You can even turn the cleaner into a handheld vacuum, with just a click.
Also, empty the bin easily with the new hygienic design, and avoid touching the collected dirt. As the HEPA filter is washable, you can even keep your Dyson cleaner as spotless as your home.
Featured in an iron, sprayed nickel and titanium finish, the V8ANIMAL+ will not only be a useful but stylish addition to your home too.
Adjustable and versatile, there's no job too big or too small for the Dyson V8ANIMAL+ vacuum cleaner.
---