Product Information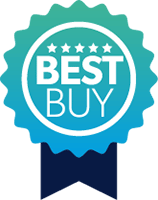 Best Buy
By collaborating with some of the world's greatest brands, we've created specialist Best Buy collections across our most popular product ranges. We will keep them updated, to bring you the best choice, the best price and the best products. And that's a promise.
This built-in microwave oven is ideal for practical and speedy cooking. It combines streamlined, integrated installation with easy to use cooking features. It comes with a 25L capacity and 900W maximum power level to cook any dish quicky and thoroughly. There are 5 power levels to choose from for tailored heating styles as well as Auto Defrost and Quick Start to make mealtimes fast and convenient. There is even a built-in safety key lock to prevent settings being altered during cooking.
With a 25L capacity there is plenty of room to defrost, heat through and cook all your dishes.
This model has a 900W maximum power level to ensure thorough and speedy cooking.
There are 5 power levels to choose from to ensure you get perfect cooking results every time.
Defrost meals safely and quickly with Auto Defrost.
Jump straight in and heat up your favourite meals with Quick Start
Key Features
25L capacity
900W max microwave power
5 power levels
Auto defrost
Quick start