Product Information
Features:
6kg Loading Capapcity - Ideal for small sized households
C Energy Efficiency Rating
Sensitive Drying System - Reduces creases and ensures laundry is soft and cared for
AutoDry Function - Gently dries laundry to the exact degree of dryness you want
Anti Crease - 90 Minute Cycle at the end of the programme to reduce ironing time
66dB Noise Level & AntiVibration - Less vibration & quieter drying, great for open plan homes
2 Years warranty for guaranteed performance & quality
Dimensions: 842mm(H) x 599mm(W) x 635mm(D)
Additional Features:
LED programme progress indicator and warning for fluff filter and condensed water container
Fully electronic control dial for sensor programmes and timed programmes
Long vent hose (200cm)
Sensitive drying: large galvanised drum and revolution drying system
Programme time of the standard cotton programme at full load 114 min
Programme time of the standard cotton programme at partial load 68 min
Weighted programme time of the standard cotton programme at full and partial load: 88 min
Energy consumption 427.0 kWh per year, based on 160 drying cycles
Dimensions: 842mm(H) x 599mm(W) x 635mm(D)
NOTE: The vent hose connects at the back of the appliance
The vented dryer with Anti Vibration Design - enjoy its attractive appearance and quiet operation.
SENSITIVE
DRYING
ANTIVIBRATION
DESIGN
6KG
CAPACITY
LONG
VENT HOSE
SOFT DRY
DRUM SYSTEM
Do you want perfectly dried laundry? Then you will want the Bosch 6kg freestanding vented tumble dryer! Neat, sensitive, and gentle, this tumble dryer is just what you need to keep good care of your clothes and linen.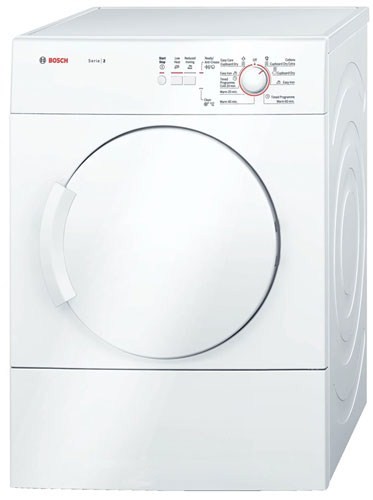 Gentle
Its spacious 6kg drum with a Softdry drum system will ensure that the drying is very gentle on your laundry. The AntiVibration design will make sure that the dryer is gentle on itself as well as your floor.
Convenient
With a long 2 metre hose length, you'll be able to fit the dryer your space, rather than having to make room for it with a flexible hose that could stretch out the nearest window. The vent located at the rear of the machine, keeps the appliance looking tidy, unobtrusive, and frees you from any unwanted hose-tripping incidents!
Thorough
With a prolonged anti crease cycle and a sensor controlled autodry technology, the Bosch tumble dryer will make sure that your laundry comes out dry!
Assorted
This dryer has a fully electronic control dial, buttons to control temperature, and multiple drying options it easy to tailor the cycle to suit your laundry.
---